3M™ Cloth Belt 741A is a ceramic grain cloth belt engineered on an X-weight, firm, polycotton cloth backing. This abrasive product's ceramic grain design provides an excellent cut rate and its resin-bond construction offers heat resistance. These features, along with the heavy X-weight backing, deliver the long-term resilience necessary to withstand light to moderate applications.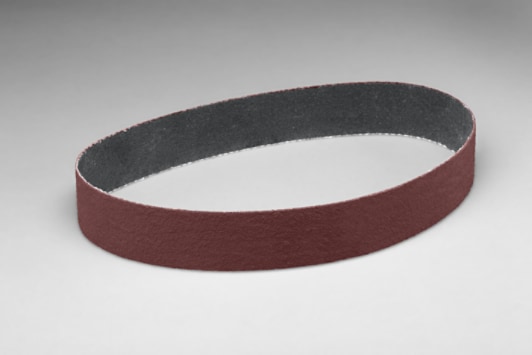 Narrow belt available in lengths up to 376 inches
Cloth Belt Constructed to Last
3M™ Cloth Belt 741A is a tough ceramic grain cloth belt constructed on a durable and firm, X-weight polycotton cloth backing. We designed this cloth backing to feature an excellent cut rate, providing long-lasting performance for many finishing applications. This ceramic grain abrasive also has a resin-bond construction that offers heat resistance. In addition, our Cloth Belt 741A is designed with a film media splice for added strength for those low to medium pressure grinding applications.
Engineered using 3M™ Ceramic Abrasive Grain, our 3M™ Cloth Belt 741A is able to cut fast and handle intense heat and stress applications. The proprietary grain is chemically engineered with a unique "stay sharp" crystalline structure, which continually creates fresh-cut edges. Ceramic abrasives are engineered to fracture frequently for a super-fast cut. With these properties, our Cloth Belt 741A can be used in a wide variety of applications, including sanding, grinding, deburring, blending, finishing and polishing applications. It features a closed coat mineral construction for finer finishing.
All About 3M Abrasive Belts
Abrasive belts come in many different widths and lengths and are used on a variety of different belt sanding tools for many different applications. 3M offers a broad selection of belts to fit most any industrial belt sander. Wider belts are used with wide belt sanders flat finishing—to smooth rough cut edges of metal sheets, or add a grain pattern to stainless steel sheets. Medium-width belts are generally used on a backstand for weld removal or on a feed -thru style flat finisher for imparting a finish on sheets or coils. Narrow belts can be used on backstands for grinding and finishing, or on file tools for finishing in right angle corners.
Resilient and Ready for Tough Applications
Using a wide combination of minerals, backings and bonds, regardless of your grinding and finishing applications, we offer a full line of quality coated and bonded abrasives. With features that offer durability and long-lasting performance, 3M™ Cloth Belt 741A is a great solution for those applications that require a cloth belt that can stand up to production environments and tough materials.
More information about 3M™ Coated Abrasive Belts
(PDF, 113 Kb)