Heavyweight polyester backing with resin bond provides durability for high-production environments
Grinding aid enables cooler grinding on heat-sensitive metals
Tough alumina zirconia abrasive mineral is well-suited for coarse stock removal on mild steel, stainless steel, high nickel alloys and aluminum
Narrow belt is easy to control and allows grinding and blending in hard-to-reach areas such as corners of the workpiece
Great for edge radiusing
Can be run wet or dry
Our Standard Abrasives™ Zirconia Belt achieves greater cutting efficiency over aluminum oxide belts, and is backed with a heavy, water-resistant cloth backing that stands up to high-pressure applications and edge work. A grinding aid on the belt reduces running temperatures to protect heat sensitive alloys such as stainless steel, nickel alloys and cobalt alloys.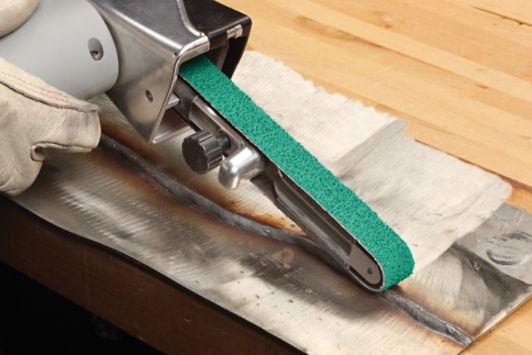 Grind and blend hard-to-reach areas with power and efficiency!
Durable Belt Performs Heavy-Duty Tasks
We recommend our Standard Abrasives™ Zirconia Belt (PDF, 903 Kb) for use on mild steel, stainless steel, high nickel alloys and aluminum for dimensioning parts, deburring, blending, and finishing castings and forgings. The resin-bonded polyester backing maintains durability under high heat and pressure, ensures long life, and supports both wet and dry operations. Durability makes this belt ideal for prolonged use in industrial environments.

The Benefits of Using a File Belt
File belts, also known as narrow belts and portable belts, are used on file tools for a variety of metalworking applications where discs and rotary grinders are too cumbersome or cannot access angles of the workpiece. Narrow belts are well-suited for grinding and blending from contact wheel or platen, plus finishing and polishing from slack of belt. Use this belt for blending corners, edge radiusing, contour finishing, deburring edges, and deburring inside diameters or angles of the workpiece.

Alumina Zirconia Excels under High Pressure
Alumina zirconia fractures frequently to continually produce sharp points and deliver a faster cut-rate than aluminum oxide. A synthetic mineral, it was developed for heavy stock removal and high pressure grinding.

Quality Standard Abrasives™ Solutions for Industrial Applications
The Standard Abrasives brand has supplied quality abrasives to the metalworking industry for over 50 years. Customers rely on our broad offering of high performance products including coated, bonded, and non-woven abrasive lines.