Flexible cloth backing offers conformability ideal for pump sleeve sanding on wood
Anti-static treatment on the belt keeps dust from clogging the belt or covering the workpiece
Open coat construction and static resistance help evacuate dust and debris for longer belt life and more aggressive cut
Durable resin bond resists heat, extending the life of the belt
3M™ Cloth Belt 202DZ is an aluminum oxide belt with open coat construction on a flexible backing that conforms well for pump sleeve sanding applications on wood.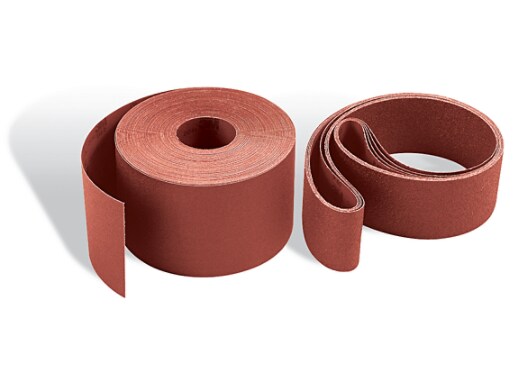 3M offers a complete line of woodworking belts and has reformulated its woodworking belt construction to dramatically increase overall productivity per belt.
To help reduce loading, enhance cut, and prolong abrasive life, open coat construction and a static resistant treatment channel dust and debris away from the belt while also helping keep the workpiece free of dust, along with the use of a proper dust collection system.
Reduced static on our 3M™ Cloth Belt 202DZ optimizes dust collection when used with an efficient dust collection system. The abrasive and backing are resin bonded to keep the belt running until the abrasive is completely worn.
Aluminum oxide mineral is a popular choice among industrial professionals because of its cut-rate, durability, and long life. It can be used on a wide variety of materials in both woodworking and metalworking, including ferrous alloys, and is the most commonly used industrial abrasive. The abrasive particles are adhered to the cloth backing with resin, creating a strong bond that withstands high heat and pressure.
Loading occurs when wood or paint dust clogs the surface of the belt and the abrasive points, rendering the belt ineffective. Open coat construction means the abrasive grains are spaced slightly apart so that dust and debris have an outlet rather than loading the abrasive. Additionally, the open coat feature provides a more aggressive cut than a comparable closed coat abrasive of the same grade.
Abrasive belts come in many different widths and lengths and are used on a variety of belt sanding machines for many different woodworking applications. At 3M we offer a broad selection of belts to fit most any industrial belt sander. Wider belts are used with wide belt sanders to dimension or finish wood panels. Medium-width belts fit onto edge sanders for sanding flat, narrow surfaces such as panel edges; and narrow belts are used with portable belt sanders for sanding or blending wood pieces such as cabinet doors.