Provides precise, controlled, close-tolerance finishes
High-strength film backing is tear resistant
Available in a wide range of grades and converted forms
Custom sizes may be available
Ideal for sanding plastics, paint, e-coat and wood, ferrous and non-ferrous metals
3M™ Microfinishing Film 268L is a fast-cutting abrasive for precise, uniform, close-tolerance finishes. An aluminum oxide mineral is resin-bonded to a 3 mil, high-strength polyester film backing for durability.  Use wet or dry for finishing a wide assortment of substrates.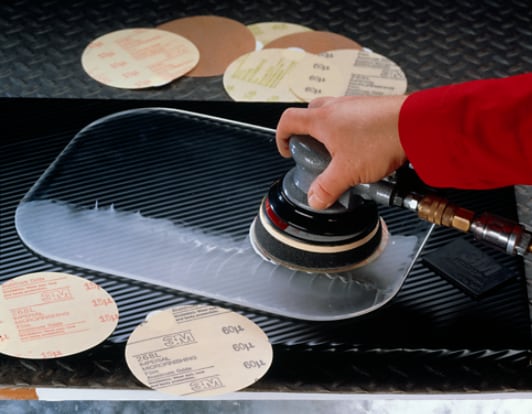 Polyester film backing flexes to help achieve a consistent finish
Achieve Close-Tolerance Finishes
Our 3M™ Microfinishing Film 268L was designed to enable operators to achieve precise, controlled, close-tolerance finishes on surfaces from metals to plastics to wood. This product features precision, micron-graded aluminum oxide, resin-bonded to a high-strength, resilient polyester film backing. Aluminum oxide is desirable among industrial professionals for its fast cut-rate and long life.
Available in a wide variety of grades, operators should consider target tolerances when selecting the right microfinishing film. This film comes in a number of converted forms including sheets, discs and non-standard sizes and in three attachment types.

Run It Wet or Dry
Coolant generally extends abrasive life, increases cut rate and prevents loading. The high- strength, bare-film backing maintains its strength and flexibility when paper or cloth will degrade when run wet.
Learn more about 3M Sanding and Finishing Solutions
(PDF, 1.4 Mb).