Featuring aluminum oxide mineral on XE-weight rayon cloth backing, our 3M™ Cloth Segment 244E is ideal for rotary sanding to remove rough areas and set a grain finish. It performs stock removal and finish sanding and is primarily used for setting the grain on contoured metal parts, such as stainless steel tanks used in the medical, food, and dairy industries.
Strength Comparison
Increased Strength/Decreased Flexibility




Cotton
Rayon
Polyester

Increased Strength/
Decreased Flexibility

J
JE
X
XE
XF
Y
YF
Z
ZF
Reliable Construction for Contour Sanding
3M™ Cloth Segment 244E is constructed of a number of layers of coated abrasive cloth. These layers are held together on one end by a sturdy plastic assembly or base that slides easily into the teardrop-shaped slots of a 3M™ RX Hub (sold separately). As the hub rotates over the substrate, the abrasive delivers a linear finish. Segments offer more conformability over a comparable belt, making them more suitable for a range of contours and shaped areas of a workpiece. Additionally, the layers of the segment provide longer life than a belt.
3M manufactures cloth segments of two types: slashed and unslashed. Slashed segments are cut into vertical strips that offer more conformability to inner contours. Unslashed segments are used when less conformability is required and are generally slightly more aggressive than the slashed version.
Cloth-backed abrasives are known for their durability and flexibility and are a good choice for stock removal. We construct 3M™ Cloth Segment 244E with heat-resistant resin, a strong binding agent that adheres the abrasive to the backing and maintains the stability of the bond even in conditions of high heat or pressure.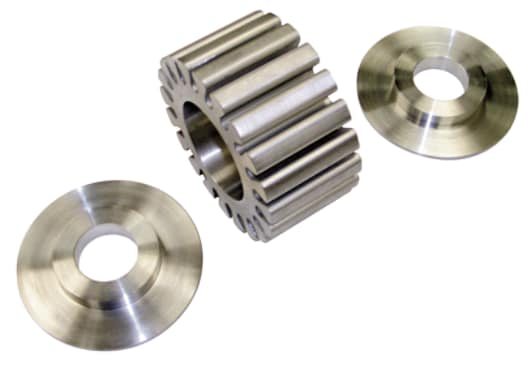 Plastic base slides easily into a 3M™ RX Aluminum Hub (sold separately)
Ease of Use
The 3M™ RX Hub is an aluminum wheel with evenly spaced slots around the perimeter, into which the segments are inserted. These segments will also fit the keyhole shaped slots of hubs by other manufacturers. To hold the segments in place during operation, appropriately sized stamped metal flanges must be used on both sides of the hub.
Find accessories for abrasive products
(PDF, 4.29 Mb)
3M Engineered for Industrial Production
3M Abrasives engineers know abrasive construction. For more than 100 years 3M has been a leading abrasive supplier for the metalworking and woodworking industries, and we offer a complete line of high quality metalworking abrasive solutions to meet your tough jobs. 3M™ Cloth Segment 244E is custom-sized for every customer to help you achieve the best possible results for your application. It is yet another example of how 3M provides effective solutions to help businesses like yours operate faster, better and more efficiently.
Learn more about Woodworking solutions
(PDF, 20.55 Mb)
Learn more about Metalworking solutions
(PDF, 12.95 Mb)