Unique "brick and channel" abrasive structure wears evenly
Consistent cut rate and removal part after part
Longer life than conventional abrasives
Grinding aid keeps 327DC running cool
Low pressure, easy breakdown profile resists loading with soft metals
3M™ Trizact™ Cloth 327DC abrasives are a perfect choice for dry metalworking applications. Our macroreplicated "bricks" are designed for intermediate blending and finishing. Aluminum oxide mineral and grinding aid technology reduces heat buildup, runs cooler and ultimately extends the life of the abrasive.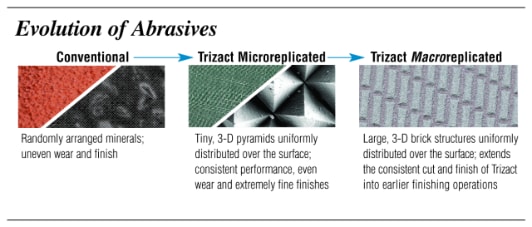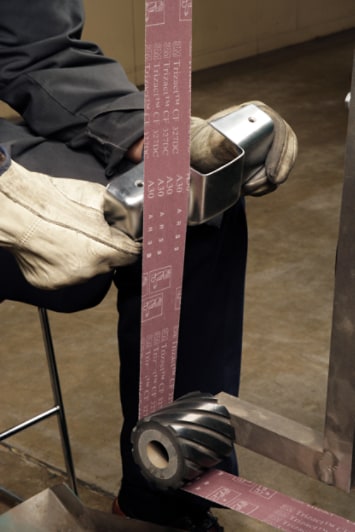 Low pressure, easy breakdown profile helps to avoid loading with soft metals
Reduce Variability, Reduce Process Steps, Reduce Cost Per Part
The extremely uniform distribution of mineral over the backing and the brick-like structure of the mineral serves to extend the consistent cut and finish of Trizact into earlier finishing operations. The consistency with which 3M™ Trizact™ 327DC abrasives refine scratches, in combination with the greater amount of mineral and grinding aid, often enables operators to consolidate or eliminate process steps. The macroreplicated bricks deliver the same great results part after part, which can also reduce the need for rework.
Originally designed for intermediate finishing applications (removing casting scale and minor defects from orthopedic medical implant devices, for instance), our 327DC abrasives' more consistent cut and longer life in demanding applications make more efficient manufacturing processes and lower cost of operation possible in many other metalworking applications.
Low Pressure, Easy Breakdown Profile for Soft Metals
Aluminum, zinc, brass and other softer metals can quickly load abrasive surfaces, reducing the media's life and degrading performance. 3M™ Trizact™ Cloth 327DC breaks down easily under low pressure in order to help avoid premature loading.
Recommended Applications
Our grade A100 3M™ Trizact™ 327DC belt makes a good starting point for generating #5-#8 stainless steel finishes. Follow 327DC A100 with finer grade Trizact steps to achieve the desired #5-#8 stainless steel finish. Use with the 3M™ Inline Sander at 3,500 RPM with 3M™ Expander Wheels.
3M Science. Applied to Engineering More Perfect Surfaces
3M pioneered the use of tiny, precisely shaped structures to give materials new physical, chemical, or optical properties. For more than a century, we have refined our original technologies and complemented them with breakthrough inventions developed by other 3M businesses. Today, our abrasives rely on traditional strengths such as adhesives and coating, as well as the most modern technologies, from micro- and macroreplication to ceramics and nonwoven materials. The result is a comprehensive range of abrasives that shape, finish, and polish with ease and precision.