Malleable foil tape resists moisture, weather, UV degradation, and many chemicals
Moisture stable liner doesn't wrinkle in high humidity conditions
Thermally conductive backing helps dissipate heat
Heat and light reflective tape that enhances lighting efficiency
Acrylic adhesive performs well over a wide temperature range
Our 3M™ Aluminum Foil Tape 3367 is a high strength foil coated with cold weather acrylic adhesive and a moisture stable liner. This tape excels in demanding temperature and humidity applications and provides superior performance and durability over a wide range of environmental conditions.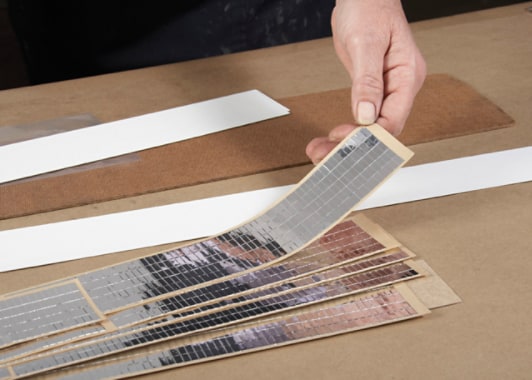 Good for die-cut applications
3M™ Aluminum Foil Tape 3367 serves as an excellent barrier against moisture, dust, dirt and mild chemicals. The thermally conductive backing helps maximize efficiency by dissipating heat over a wider surface area. The acrylic adhesive provides superior temperature, U.V. and solvent resistance to produce a strong, lasting and reliable bond. It provides long-term protection for both indoor and outdoor environments, making it a good choice for masking, sealing, seaming, shielding, harness wrapping, joining and heat shielding applications.
Aluminum is just one of the metal-backed tapes available from 3M. Our line of foil tapes resist failure from many common sources of degradation, including moisture, ultraviolet rays and many chemicals. As with all 3M products, our Aluminum Foil Tape 3367 comes with exclusive 3M technical expertise and application advice.
3M™ Aluminum Foil Tape 3367 helps meet application challenges in the transportation, specialty vehicle, construction, and appliance industries. Let it work for you.