Automatically applies two 4.5" L-clips of tape on the same edge as close as 8" apart
Roller-ball table for easy box positioning
Placing a box in the application area activates the mechanism
Uses filament reinforced tape and transparent reinforced strapping tape (RST)
Supports 12mm to 36mm tape width capacities
3M-Matic™ Dual L-Clip Applicator S867 II applies two 4.5" L-clips of Scotch® Filament or Reinforced Strapping Tape (RST) on the same edge at up to 50 clips per minute for sealing non-standard boxes. The machine is designed for installation adjacent to a conveyor system or on a stand for off-line systems.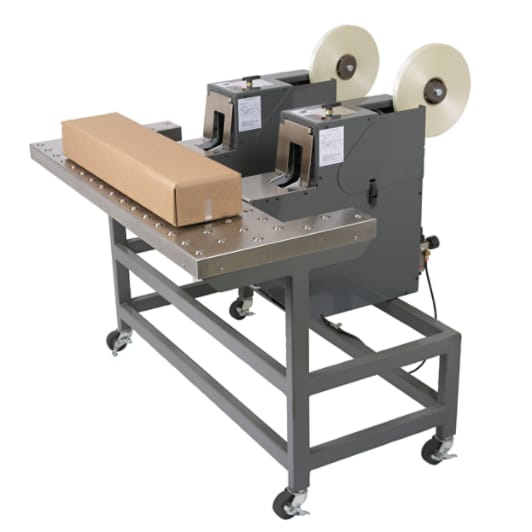 Designed to quickly and safely apply two L-clips of tape as close as 8" apart
Recommended Applications
Telescoping boxes
Custom boxes
One-piece boxes
Five-panel boxes
3M Tapes designed for use with 3M-Matic™ Dual L-Clip Applicator S867 II
Scotch® Filament Tape 898
Scotch® Filament Tape 8951
Scotch® Filament Tape 8981
Scotch® Filament Tape 8934
Scotch® Filament Tape 8988
Bringing Better Ideas to the Surface through Science and Innovation
In our 3M Industrial Adhesives and Tapes Division, we apply the science of adhesion to deliver innovative solutions that improve the design and manufacturing processes of companies around the world. In the end, our technologies help customers like you deliver competitive products to the market faster and more efficiently.
3M-Matic™ Dual L-Clip Applicator S867 II manual
(PDF, 2.39 Mb)