3M™ AccuGlide™ NPH Upper/Lower Taping Head features a narrow profile and is designed to fit virtually any case sealing system on the market. Low-impact motion and taping speeds of up to 100 fpm help streamline operations, maximize productivity and improve quality, no matter what brand of case sealer you own.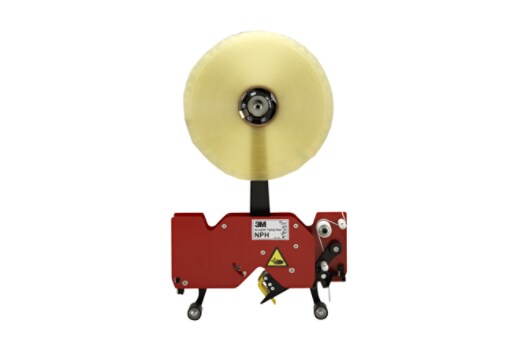 Designed to fit most sealing systems
Recommended Applications
3M™ AccuGlide™ NPH Upper/Lower Taping Head assists 3M-Matic™ and other case sealer brands in case sealing operations across a wide range of industries, including:
Food and beverage
Medical devices
Pharmaceutical
Electronics
Retail
Manufacturing and distribution centers
Stable Alignment and Smooth Application
3M™ AccuGlide™ NPH Upper/Lower Taping Head has a tape drum latch that secures rolls for stability and positive tape alignment — just press to release for a roll change. The rugged construction of painted metal or stainless steel provides exceptional durability, and the taping head also has a friction brake drum to maintain proper tape tension and prevent overcoasting for smooth tape application.
Taping Heads Provide Low-Impact sealing
Designed to apply a "C" clip of Scotch® box sealing tape, the 3M™ AccuGlide™ NPH Upper/Lower Taping Head seals the top or bottom center seam. Designed for low impact and consistent application, 3M™ AccuGlide™ taping heads help protect boxes while providing greater case throughput.
The 3M™ AccuGlide™ Taping Process
A regular slotted container (RSC) is placed on the conveyor and pushed into the drive belts, which convey the box into the taping head. The 3M™ AccuGlide™ Taping Head applies Scotch® pressure sensitive film box sealing tape at the leading end of the box, continuing along the center seam to the trailing end. This is called a "C" clip application. The taping head cuts the tape as it is being applied. After the box is securely sealed, it exits the case sealer.
Bringing Better Ideas to the Surface through Science and Innovation
In our 3M Industrial Adhesives and Tapes Division, we apply the science of adhesion to deliver innovative solutions that improve the design and manufacturing processes of companies around the world. In the end, our technologies help customers like you deliver competitive products to the market faster and more efficiently.
3M™ AccuGlide™ NPH Upper/Lower Taping Head brochure
(PDF, 208.2 Kb)