3M™ Fastener Adhesive 2353/2353Y are microencapsulated, room-temperature curing adhesives that enhance the anchorage of threaded fasteners. The adhesives are designed to be coated on the fasteners and dried. They remain dormant until the shearing action of engaging the fastener into a nut or threaded cavity breaks the capsules and allows the adhesive to cure.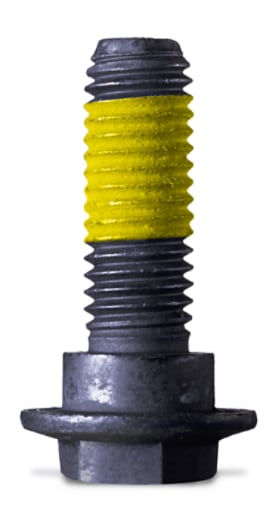 Room-temperature curing adhesives that enhance the anchorage of threaded fasteners
3M™ Fastener Adhesive 2353/2353Y contain a microencapsulated epoxy resin that is suspended in a hardener. The force of thread engagement crushes the microscopic capsules of epoxy resin, mixing the reactant components, and initiating a chemical reaction which locks the parts together. These adhesives provide consistent and predictable torque values and do not require heat or primers for curing.
Recommended Applications
Fasteners for the engine compartment or safety-related parts
Securing fasteners in the engine compartment
Securing fasteners in safety-related parts
Better Fastening Through Chemistry
3M™ Fastener Adhesive 2353 and 2353Y are made with special epoxy chemistry that demonstrates high torque values on coated fasteners, environmental resistance to heat, automotive fluids, vibration, thermal and mechanical shock and robust, structural bonding performance.
It Takes Two
As a two-part (microencapsulated) system, it offers extended shelf life for bulk adhesive and coated fasteners. The controlled reactivity allows the adhesive to activate and cures upon insertion, while enabling reusability as additional capsules break with each re-insertion. This allows for more convenient handling by the end-users.
Go With the Flow
3M™ Fastener Adhesive 2353 and 2353Y have a flow coatable formula that allows controlled application to fasteners as viscosity can be adjusted to achieve target coating weights. It also penetrates oil coatings, dries quickly, and bonds to a broad range of fastener finishes for broad handling, dispensing and drying windows for applicators.
Better Science for Better Adhesion from 3M
Since 1925 when one of our lab assistants invented masking tape, 3M has been applying science to life — developing adhesive products and technologies that help entire industries and individual businesses worldwide. The work that began with a single 3M engineer now spans decades and generations, and all of it goes into each of our products developed for automotive OEM, like 3M™ Fastener Adhesive 2353 and 2353Y.
See more about 3M™ Fastener Adhesives and 3M™ Thread Sealant
(PDF, 261.9 Kb)