High compressive strength formula is ideal for filling voids and honeycomb core
Cures in one hour at 250°F (121°C) to keep processes moving forward
The compound has thixotropic properties for ease of application
Cured material is flame retardant
Rigid, solvent resistant material can provide long service life
3M™ Scotch-Weld™ Structural Adhesive EC-3439 is our off white modified epoxy that is ideal for filling voids and honeycomb core. It contains no solvent and cures to a rigid, solvent resistant material in one hour to help keep your processes moving forward. EC-3439 has thixotropic properties for good handling and ease of application as well.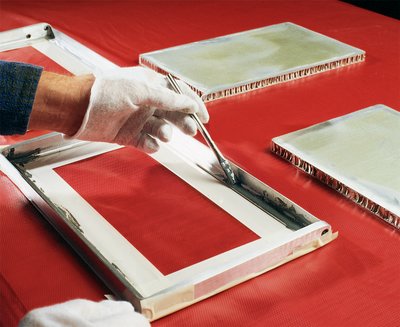 High adhesion to metal, glass, wood, synthetic rubber and many other porous and nonporous surfaces
3M™ Scotch-Weld™ Structural Adhesive EC-3439 is an excellent solution for void filling, reinforcing and splicing honeycomb core applications where a high compressive strength and flame retardant compound is required. Our family of epoxy adhesives employs dual strengths; they build handling strength immediately after part assembly and structural strength as they chemically bond to the substrate. Their fast-acting strength begins to build as the adhesive cools for rapid, convenient adhesive application with minimal downtime from clamping or fixturing. Their reactive nature achieves dramatically strong bonds to the surface for a durable bond with good temperature and chemical resistance.
Our Best for Your Best
3M is proud to partner with organizations across the spectrum of aerospace and related industries. Enabling efficiencies, reducing process times and lowering aircraft weight is how we execute our never-ending mission to offer best-in-class adhesives, sealants, surface protection products and composite resins that effectively reduce costs on multiple fronts. Professionals across the industry know the numerous advantages of
3M Aerospace.
Our brand is widely recognized for the highest standards of quality and performance, adding value to the final results. By engineering reliability, longevity and value into all of our products, we have a history of saving money by reducing waste, rework and time.
Learn More about 3M Interior Adhesive Solutions
(PDF, 14.9 MB)
---
Find what you need in our aerospace specification portal.
3M maintaints partnerships with every major aircraft OEM in the world. Find your spec today.
FIND YOUR SPEC