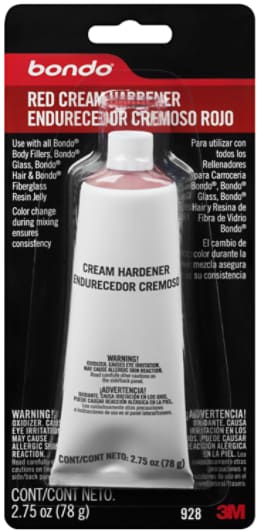 Formulated and packaged under temperature-controlled conditions which assures freshness and maximum performance
Use with Our Many Lines of Car Body Filler
Bondo®
Red Cream Hardener is a hardening agent designed to work with all fillers, putties and glazes. The creamy consistency mixes easily and quickly. Our hardener combines the best of ease of use and quality final results.
Formulated for Convenience
When mixed with a 2-part filler, a chemical reaction occurs which allows you to make high-quality, long-lasting repairs to metal, masonry, concrete, painted wood, bare wood, drywall and more. The resulting repair can be sanded in 15 minutes and painted in only 45 minutes.
Tinted Colors Help with Consistency
Cream hardeners with tinted colors help you ensure consistency when mixing hardener and filler together. By looking at the color of the mixture, you can get an idea about whether you have too much or too little hardener. The color of the cream hardener will not affect curing.
Formulated to Reduce Chances of Pinholes
Our cream hardener
(PDF, 6.22 Mb) is formulated and packaged under temperature-controlled conditions to ensure freshness and maximum performance. Mixing auto body filler and cream hardener is an easy task. To reduce the chance of creating pinholes, avoid mixing in a circular pattern, which can force air into the mix. Mixing should be done in a back and forth wiping or folding motion.
Use During the Fill Stage of the 3M™ Body Repair System
Even a small repair can seem complex at first. So 3M's
Body Repair System
simplifies the entire automotive body repair process by dividing it into four stages:
Stage 1 — Prepare.This stage includes pulling dents, removal of paint and rust and efficient, effective masking of the area.
Stage 2 — Fill.This stage involves patching holes with reinforced filler and smoothing and shaping filler before painting.
Stage 3 — Paint.This stage includes painting the area and blending and smoothing primer and paint.
Stage 4 — Finish.The final stage for showroom-grade results: removing small defects, sealing and polishing clear coats and other painted surfaces.
3M supplies
premium products
(PDF, 68.63 Mb) such as abrasives, tapes, body fillers and tools for every stage. This system helps you work easily, efficiently and successfully across the entire body repair process.