Lightweight, smooth material for easy spreading
2-part polyester compound mixes easily with cream hardener
Excellent adhesion and good featheredge
Affords finish sand time of as little as 20 minutes for greater productivity and throughput
Compatible with nearly any paint system
Dynatron™ Dynalite® has long been the auto repair professional's choice for lightweight body filler. This polyester resin-based material features a light, smooth texture ideal for mixing and spreading. It cures quickly and affords good featheredge for reduced finishing and sanding work. This body filler is compatible with nearly any automotive paint finish system.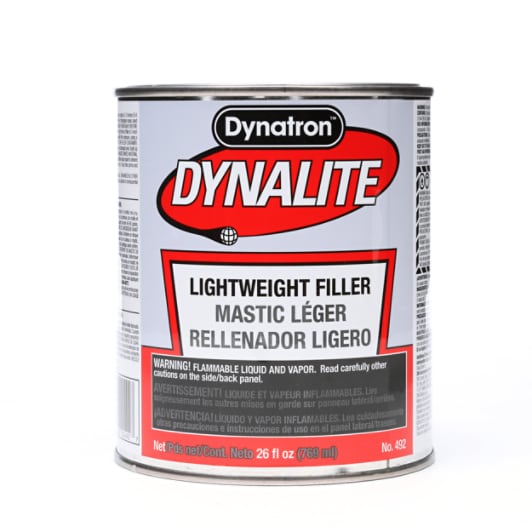 Dynatron™ Dynalite™ Body Filler is easy to sand and are manufactured with only the highest quality ingredients
The World's Most Popular Professional, Lightweight Body Filler
Considered a standard in the collision repair industry, Dynatron™ Dynalite® body filler features a combination of resins, talcs and microspheres that balance economy with high performance in auto body repair and finishing. This polyester resin-based material mixes quickly and easily with cream hardener for a lightweight filler that spreads easily, sands smooth and delivers excellent adhesion to the substrate.
This filler is formulated to be as just easy to work with after curing, providing excellent featheredge that reduces sanding and finishing work. Finish sand time is as little as 20 minutes for added shop efficiency.
The Science Behind the Standard
Dynatron™ Dynalite® is just one of a full range of Dynatron automotive refinish products, and has come to be regarded as a standard in collision repair for its light weight and ease of application. Dynatron is a brand of 3M — applying science to life, and helping auto body professionals create better results at a minimum of time and expense.
Learn more about 3M Automotive Aftermarket products
(PDF, 69 Mb)