Extra creamy formula spreads easily
Formula cures faster in cooler temperatures
Stain and tack-free formula increases quality and work efficiency
Fewer pinholes delivers more professional results
Shorter cycle times boosts productivity
Dynamic Mixing System (DMS) reduces product waste
3M™ All Purpose Fast Cure Filler helps increase productivity while ensuring body repair quality with an extra creamy, easily spreading consistency. This filler is part of our 3M™ Dynamic Mixing System (DMS), which mixes two component products directly in the nozzle for a perfect ratio every time. DMS products boost productivity, and reduce product waste for auto body shops.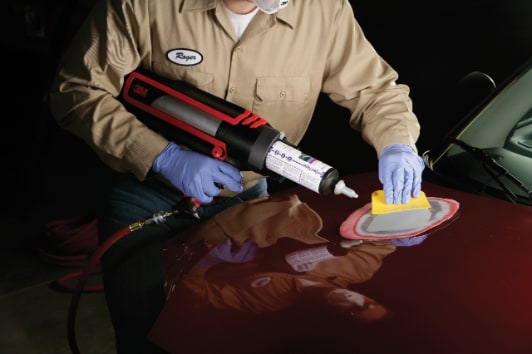 Creamy consistency smooths with less effort and produces fewer pinholes
Professional Results with User-Friendly Convenience
Higher quality auto body repairs and easier working properties for automotive technicians make 3M™ All Purpose Fast Cure Filler a preferred choice for today's shops. Our filler offers the advantages of being both stain and tack free. The creamy consistency of our filler smooths with less effort and produces fewer pinholes. With the built in efficiencies of this filler, it's possible to achieve shorter cycle times to complete automotive body repairs in less time.
Achieve Better Results with the 3M Dynamic Mixing System
3M™ All Purpose Fast Cure Filler is part of our 3M™ Dynamic Mixing System, which boosts efficiency by mixing two component products in a nozzle that dispenses perfect ratios of filler directly to the work site. With the Dynamic Mixing System, you only mix and apply the amount of filler needed to complete the task, which reduces product waste by eliminating guesswork on how much to mix. Unused filler remains safely stored within the cartridges. Due to the sealed environment of the Dynamic Mixing Nozzle, no air infiltrates while filler is being mixed, keeping pinholes to a minimum.
Formulated for Cooler Temperatures
This filler, formerly sold as 3M™ Dent Filling Compound Cool Weather 55, offers faster curing properties in cooler temperatures, which can have the effect of slowing the process. Faster curing in cooler temperatures will help keep productivity up in cooler seasons and for projects left overnight to dry. We formulated this filler so that it can be used in temperatures as low as 55°F and be ready for sanding in approximately 15 minutes.