3M™ Foam Polishing Pad produces wheel- and swirl-free paint finishes when used with 3M™ Perfect-It™ Machine Polish for a high gloss shine. These foam pads also refine minor sand scratches, scuff marks and surface defects to produce a smooth and flawless surface. Use polishing pads with 3M machine polishes (sold separately) to achieve a high gloss finish.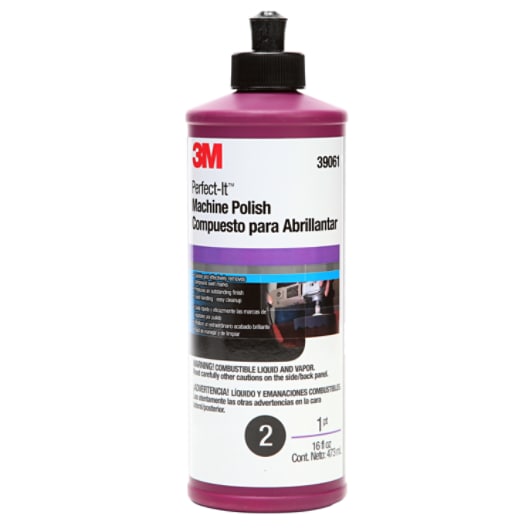 3M™ Perfect-It™ Machine Polish
Create a High Gloss, Swirl-Free Finish
3M™ Foam Polishing Pad works with 3M machine polishes to create a high gloss finish that glistens in the sunlight. Our car polishing pads help remove compound swirl marks and fine sand scratches, without leaving swirls of their own. Our
3M Polishing Pads
(PDF, 503 Kb) are one of the final steps for getting
a perfect finish
(PDF, 1.6 Mb). The polishing pads are effective in removing imperfections that often escape the human eye in many lighting conditions. But it is important to remove these slight imperfections so that they are not revealed when the light or angles is right to do so.
Innovative Science Means a Better Polishing Experience
We designed our pads to perform better based on the dynamics of science. The materials used in our pads make a difference in how they perform. Our pads feature convoluted foam, which allows air to travel within the pad. This feature holds polish expertly and allows the pad to glide smoothly over painted surfaces. The density of the foam prevents absorption of the polish, which saves polish and improves final results. The soft foam flexes well to adapt to almost any contour, applying an even coat of polish all over the vehicle. Soft, gently contoured edges on the foam pad protect paint from scuff marks.
Versatile Pads for Many Applications
Use our polishing pads for working on cured paint and fresh paint finishes, as well as refining compound scratches and swirl marks. Our soft foam pads have a rate of cut that is among the least aggressive, making them an ideal choice for working on delicate surface blemishes.
Perfect for Rotary Polishers
3M™ Foam Polishing Pads produce professional results when used with a rotary polisher. The circular motion distributes polish in a consistent and even manner, as well as smooths out minor surface blemishes.