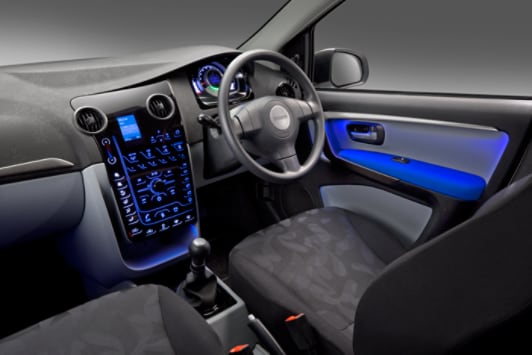 Featuring self-sticking adhesive on both sides, 3M™ Mounting Tape mounts small items to dashboards or other interior surfaces
Interior Mounting Made Easy
When you're looking for a quick and easy way to permanently attach small, lightweight items inside your vehicle, 3M™ Mounting Tape offers an unbeatable option. Simply cut the tape to the desired length, remove the liner, place the tape on the mounting surface and press the item to be attached in place. The foam core offers good conformability on contoured surfaces. Installation of small items couldn't be easier. Our mounting tape may also be used for indoor household as well as automotive applications.
The No-Mess, No-Fuss Installation Method
Unlike glues that may run and drip, our mounting tape is a clean and convenient way to attach items inside your car. You'll never have to clean up excess glue afterwards. With self-sticking adhesive on both sides, you don't have to curl the tape for two-sided adhesion. Simply lay it flat and press the item to be attached into place.
Low Profile Tape
Our mounting tape measures only 1/2" in width, which allows you to mount narrow items without the tape showing. Cut the tape to any desired length for custom installations. Roll comes with 75" of tape.
Discover More 3M Automotive Aftermarket Solutions
(PDF, 68.63 Mb)
Tape mounts small items to dashboards and other interior surfaces
Self-sticking adhesive on both sides offers convenience
Foam core provides good balance between strength and conformability
Easy-to-cut tape allows for customized lengths
Versatile tape may be used for both automotive and household applications