3M™ Auto Care Refinish Masking Tape meets even professional paint technicians' requirements for masking before painting. This yellow crepe-paper tape will not allow adhesive transfer, resists edge lifting and is waterborne paint system compatible.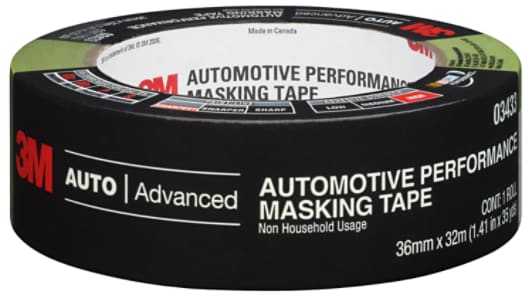 Provides excellent adhesion to a variety of substrates
Help Ensure Sharp Paint Lines
Auto body professionals will recognize the familiar green color of our 3M™ Auto Care Performance Masking Tape: the distinctive green paper backing signifies that the tape has been designed specifically for performance in auto body paint repair and maintenance jobs. It helps improve visibility for more accurate edges and is highly conformable — it resists breaking even as you apply it around contours of your vehicle. This makes it faster to apply and helps decrease the amount of tape you need to use.
3M™ Auto Care Performance Masking Tape features a specially formulated adhesive that bonds instantly to a variety of surfaces. Ideal for use with water or solvent based automotive paint, the adhesive resists water and chemicals as well as bleed-through, edge curl or lifting. A primer layer anchors the adhesive to the backing, helping you remove the tape cleanly without slivering — virtually eliminating scraping or scrubbing adhesive residue after use.
All of this is built into a very low-profile tape which won't leave high paint edges that require extra buffing.
Special Release Coating Makes Masking More Effective
We add a release coating to the backing of our 3M™ Auto Care Performance Masking Tape that helps it unwind straight and clean. This added control means that the tape is much less likely to wrinkle or pull away from the masking paper for a much more accurate mask and sharper results in auto painting.
More Tape per Roll
Each 55-meter roll of 3M™ Auto Care Performance Masking Tape contains about 5 more inches of tape than lower-priced brands. Since our tape resists slivering, there's no need for the tab at the start of the roll, which makes the tape usable from the very start. And we include a coating on the inner core of the roll that releases the last wrap — commonly about 10 inches of tape that is unusable on lower-priced brands. The result is about 15 inches more tape per roll.
Decades of Science in Every Roll
The consistently sharp, uniform paint lines you get from our 3M™ Auto Care Performance Masking Tape are the result of scientific development that began when 3M invented masking tape in 1925. Every layer of our tape — the backing, the primer, the adhesive and the backing — has been carefully designed and developed for professional auto painting in any garage.
See more 3M Automotive Masking Products
(PDF, 68.63 Mb)