3M™ Clear Super Silicone Seal is a paste-like, one-component clear material that cures to a tough, rubbery solid when exposed to moisture in the air. This silicone seal adheres to clean metal, glass, wood, ceramic, natural and synthetic fiber, painted surfaces and many plastics.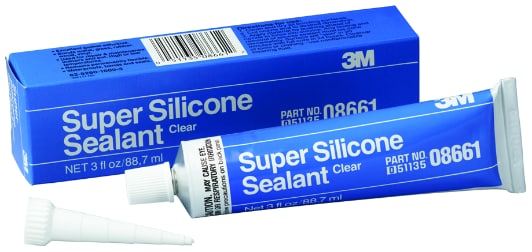 One component sealant cures to a tough, rubbery solid by reacting to air
Adhesive properties offer high resistance
3M™ Clear Super Silicone Seal is excellent for general purpose bonding and sealing, as well as formed-in-place gasketing applications. It will adhere to most clean, bare, or painted metal surfaces, glass, non-oily wood, abraded rubber, and many plastics. The versatility of this silicone makes it a practical choice throughout a vehicle.
A Tough Sealant for Real Life Conditions
Our silicone seal exhibits excellent resistance to weathering, vibration, moisture, ozone and extreme temperatures. For applications requiring exceptional adhesion, select our Clear Super Silicone Seal as opposed to a general purpose adhesive. The normal vibration that a car goes through on a bumpy road can take a toll on lesser adhesives. Plus, the temperature extremes of blistering hot summer days or frigid cold winter weather can stress adhesives. Exposure to rain, snow and sleet also tests the bonding strength of an adhesive. Fortunately,
3M™ Clear Super Silicone Seal
(PDF, 23.10 Kb) is formulated to hold up when exposed to these conditions.
Directions for Use
Thoroughly clean surfaces to be bonded. Rubber surfaces should be abraded and wiped clean. Apply product to area that is to be sealed or bonded. The paste-like consistency makes it easy to tool with a spatula or wooden paddle. Super Silicones cure from the outside in. At conditions of 75°F and 50% RH, they form a tack free skin within 20 minutes. Tooling is not practical after the skin begins forming. Cure time is affected by humidity, degree of confinement, and thickness of the adhesive/sealant bead. Lower humidity and/or temperature will extend the cure time. Higher humidity and/or temperature will reduce the cure time. In applications where the adhesive/sealant is confined during cure, the time required for proper cure is generally lengthened.
Typical Applications
Sealing automotive trim
Sealing drip rails
Sealing taillight and sunroof assemblies
Filleting and caulking joints to provide a water and dust barrier
Sealing vinyl roof top fabrics