MARKING MADE EASY: Helps apply safety tape to floors with ease, speed, and accuracy
EASY APPLICATION: Enables the user to remain standing during tape application, rather than crawling on the floor
ENABLE A SAFER WORKPLACE: Great for applying vinyl marking tape to floors in warehouses, factories, and distribution centers
ORGANIZE YOUR FLOORS: Neatly mark aisles, traffic lanes, hazard zones, and storage areas
PERFECT FOR 3M TAPE: The M1 Applicator works great with all 3M floor marking tapes including 471, 971, 764, 5702, 5700, 766, and 767
3M™ Lane Marking Applicator M1 helps you apply safety tape to floors quickly, easily and perfectly. Our handy walk-behind tape dispenser is the easiest way to mark warehouse traffic lanes and hazard areas without crawling around on the floor. Use this accessory to dispense 3M™ Safety Stripe and Vinyl Tapes to help improve workplace safety.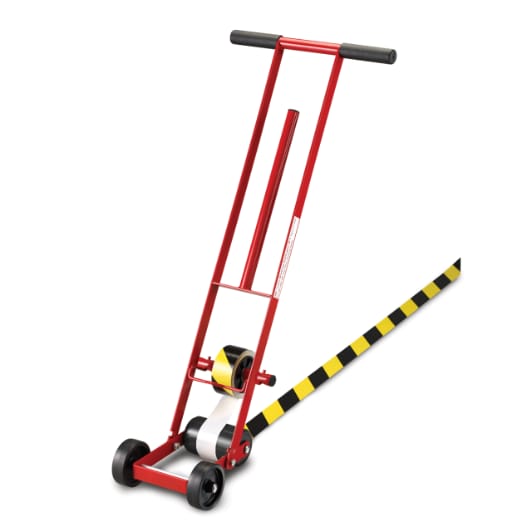 Easily mark floors without crawling or kneeling
Lane Marking Made Easy
Designed for
marking traffic lanes
(PDF, 239 Kb), storage boundaries and safety zones in warehouses, manufacturing plants and factories, 3M™ Lane Marking Applicator M-1 helps to
apply safety and vinyl tape to floors
(PDF, 153.58 Kb) with greater ease and accuracy. Constructed of sturdy metal, this wheeled dispenser is durable and extremely easy to use. This helps reduce physically taxing up-and-down movements by allowing application while standing or walking.
Our 3M™ Lane Marking Applicator M-1 is an excellent choice for applying 3M™ Safety Stripe and Vinyl Tapes. Helping to comply with OSHA and 5S requirements for floor marking, these abrasion and wear resistant tapes adhere to a wide variety of surfaces and remove easier than paint.
Recommended Applications
Applying vinyl and safety tapes for aisles, traffic lanes, hazard zone and storage areas