We designed the 3M™ Zeta Plus™ Encapsulated System Scale-Up Filter Capsules with DEL Media as single-use depth filtration capsules for the life sciences industry. The capsules feature two choices of depth filter media, DELI and DELP, for selective reduction of lipids, surfactants and biological hydrophobes from human blood plasma, serum-based products, and other biological fluids.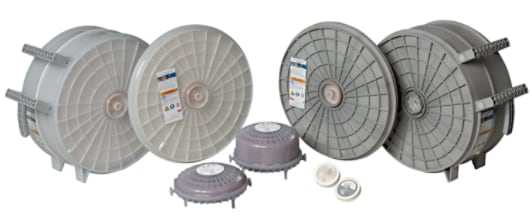 At the heart of the Encapsulated Zeta Plus system is the uniquely designed Depth Filter Capsule
During protein purification processes, lipid contamination can cause an assortment of processing problems like fouling of expensive chromatography columns and membrane filters. Lipid contamination can also cause solution instability of intermediate and final protein products leading to a problematic lipoprotein haze.
Our Zeta Plus™ DEL series media can be used to reduce lipids in the following lipid classes: mono-, di-, and triglycerides, fatty acids, cholesterol, phospholipids, and lipoproteins. Reduction of lipid contaminants from protein solutions can be highly desirable, potentially leading to improved processing economies (extended column and membrane life), improved product purity, and enhanced final protein product stability. Zeta Plus Scale-Up Filter Capsules with DEL Media are manufactured to controls described in our Drug Master File on record with the FDA, and Certificates of Quality are included with every filter.
Our Zeta Plus™ DEL Series filter media is unique in that we incorporate silica adsorbents into our media work as the active components for lipid reduction. We offer two different types of Zeta Plus DEL Series filter media to suit your various application requirements. We differentiate the DEL Series media offerings by varying the materials of construction used in manufacturing. Choice of silica type creates either a medium or a high capacity for lipids, based upon the specific surface area (g/m
2
) of the silica used in the filter matrix. Zeta Plus Scale-Up Filter Capsules with DEL Series Media are highly scalable and can be used for applications ranging from small laboratory volumes to production-scale operations. The Zeta Plus Encapsulated System includes capsule filters with effective filtration areas of 170 cm
2
, 340 cm
2
, and 1020 cm
2
and the capsules have been designed for minimal hold-up volume. They also incorporate 3 feet and rubber shoes for a level posture on many surfaces and can be stacked for convenience.
Encapsulating High Performance
When faced with the challenges of filtration for the bioprocessing industry, where upstream cell culture clarification or downstream impurity removal is required, 3M™ Encapsulated Systems provide an ergonomic, easy-to-use solution. Ours is a single-use depth filtration system that consists of three product lines: scale-up capsules for smaller laboratory volumes and efficient scale-up, a pilot system that is ideal for larger volumes and continuing scale-up studies, and a full-size system that is designed for production-scale biomanufacturing.
Applications
Lipid reduction from human blood plasma proteins such as albumin, coagulation factors, fibrinogen, and immunoglobulins
Provide protection, enhanced performance, and extended life for chromatography columns and ultrafiltration filters
Reduction of residual lipids from serum, fermentation broths and cell culture fluids
Reduction of detergents and surAnchorfactants from biological
Separation of hydrophobic bioprocess contaminants from aqueous solutions
Learn more about 3M solutions for biopharmaceutical process development, manufacturing and process monitoring
(PDF, 2.88 Mb)