We designed the 3M™ Zeta Plus™ Encapsulated System Scale-Up Filter Capsules with LP Series Media as single-use depth filtration capsules for the life sciences industry where cell culture clarification or impurity removal is required. Capsules are ideal for laboratory and scale-up studies. The encapsulated lenticular design and vertical flow path help to provide consistent performance between formats.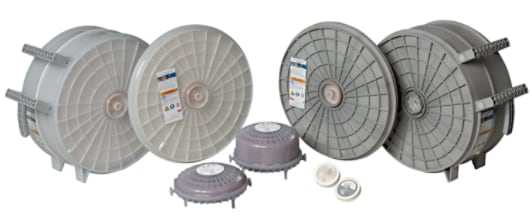 Zeta Plus Encapsulated Filters
Zeta Plus™ Encapsulated System Scale-Up Filter Capsules with LP Series Media are a family of advanced depth filters designed to exhibit a lower β-glucan response to LAL testing. They also provide superior clarification of bioprocess, biological, and pharmaceutical fluids. In addition to mechanical filtration, these capsules exhibit a positive electrokinetic charge that removes sub-micron particles through adsorption - the adhesion of particles to the charged filter surface. Zeta Plus LP Series Media provides lower levels of β-glucan extractables, ideal for reducing the incidence of false positive results when using the LAL test methodology. The high purity cellulose makes this a premium grade filter ideal for parenteral, blood fractionation, bioprocess and infant food/formula applications. Zeta Plus Encapsulated System Scale-Up Filter Capsules with LP Series Media are manufactured to stringent quality controls to provide reproducible product performance from filter to filter, lot to lot. When used as a pre-filter, the high contaminant holding capacity of Zeta Plus LP Series media can prolong the life of the final stage filter.
Pharmaceutical Grade Media
Zeta Plus™ LP Series Filter Media is manufactured to controls described in our Drug Master File on record with the FDA. Certificates of Quality are included with every filter. These filters meet the requirements of USP <88> Class VI Biological Reactivity Tests and strict requirements specified in the Drug Master File, including product control and traceability.
Encapsulating High Performance
When faced with the challenges of filtration for the bioprocessing industry, where upstream cell culture clarification or downstream impurity removal is required, 3M™ Encapsulated Systems provide an ergonomic, easy-to-use solution. They also incorporate 3 feet and rubber shoes for a firm, level posture on many surfaces and can also be stacked for convenience. The Scale-Up Capsules are available in three sizes to meet varying volumes and applications, and the capsules have been designed for minimal hold-up volume.
Applications
Parenterals, Dialysates
Blood Products
Diagnostics
Growth Media
Bioprocess Fluids
Infant Formula & Foods
We utilize the lenticular filter design and vertical flow path on our Zeta Plus™ Encapsulated System Scale-Up Filter Capsules, which has been proven effective for depth filtration systems. A total of four single-use scale-up devices are available for media grade selection and filter sizing. The BC25 capsule with 25 cm2 filter media is ideal for media grade screening. The Scale-Up Capsule filters with 170 cm2, 340 cm2 and 1020 cm2 media are designed for intermediate scale studies and low volume production filtration. Combined with the larger production scale capsules, the Zeta Plus Encapsulated System offers a completely single-use solution to process from 100 ml to 25,000 L of liquid.
Learn more about 3M solutions for biopharmaceutical process development, manufacturing and process monitoring
(PDF, 2.88 Mb)