Low viscosity for ease of dispensing
Non-Newtonian: highly non-sag for vertical applications
Easily dispenses from a Duo-Pak cartridge system
Cures in minutes to any depth without cracking
Allows for sanding refinement and smooth finishes
3M™ Scotch-Weld™ Concrete Repair DP600NS is a quick-curing, two-component polyurethane adhesive designed to repair cracks, spalls and breaks in concrete, masonry and stone. Our rapid setting concrete sets in as little as five minutes, eliminating down time without lengthy disruptions to day-to-day services. Full cure in one hour.
Easy to use — Just clean damaged area and fill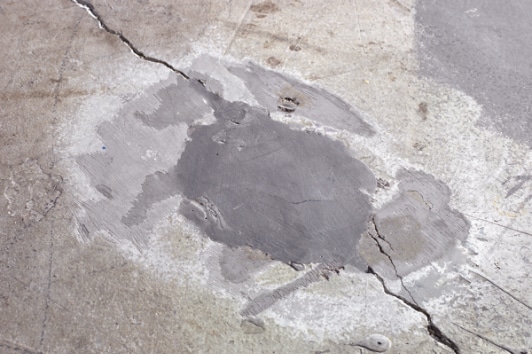 Cures to any depth without cracking or shrinking
Cures to any Depth without Cracking
Our 3M™ Scotch-Weld™ Concrete Repair DP600NS is ideal for repairing cracks and spalls in concrete and masonry, pool decks and patios, custom tapping of bolts and screws into a variety of substrates, and setting anchors in horizontal and vertical surfaces. The two-part non-sag adhesive (PDF, 437.30 Kb) bonds through a chemical reaction that cures to any depth without cracking. And once mixed our formula resists weathering, expansion and contraction. This product is gray in color, and may also be sanded to eliminate rough edges, for refinement, or to provide a smoother finish

Recommended Applications
Re-installing posts and rails
Light duty custom threading and anchoring
Bonds to concrete, masonry, ceramic, wood and metal
MRO for concrete repair and upkeep
Non-sag for vertical applications

Dispenses with a Regular Caulk Gun or Duo-Pak Cartridge System
Our 3M™ Scotch-Weld™ Concrete Repair DP600NS is a two-part component system. Our Duo-Pak cartridge keeps the components separate until ready for mixing to maximize working time. With the squeeze of a trigger the components are automatically mixed with our innovative mixing nozzle and easily dispensed precisely where needed without an unwanted mess. The bubble-free liquid begins curing immediately while also self-leveling to create a tough, non-brittle bond. Our fast curing concrete repair formula provides a one minute work life

Understanding Urethane Adhesives
Two part urethane adhesives (PDF, 1.36 Mb) cure chemically, rather than relying on moisture from the air. Because of this, they can cure quickly with no depth of cure issues in contrast to one-part urethane adhesive sealants. Urethane adhesives will bond most common materials such as wood, metals, rubbers, leather, tile and glass, many plastics, concrete and more.

The versatility of urethane adhesives is exhibited in the different formulations that have varying cured properties such as different levels of stiffness or flexibility, open time and cure speed, and hardness. They can cure to a relatively rigid or highly flexible state to meet a wide range of requirements. In either finished state, urethane adhesives will maintain bond strength integrity through variable environmental factors such as temperature, moisture and chemical exposure.

Click here for more information on 3M Structural Adhesives. (PDF, 15.87 Mb)