Designed to repair trim, fiberglass and many other composites for flexible body parts
Urethane formula holds firmly to fiberglass, plastic and a wide variety of metals
Cures rapidly at room temperature
Packaged in easily-distinguished base and accelerator tubes for mixing without special applicators
3M™ Structural Adhesive is a two-part general purpose adhesive for restoring or reinforcing the structural integrity of automotive parts, and is ideal for bonding metal, fiberglass and plastic. This product can be used for trim, composites and flexible body part repair. This product is not intended to bond structural components of a vehicle such pillars, rockers or frame members.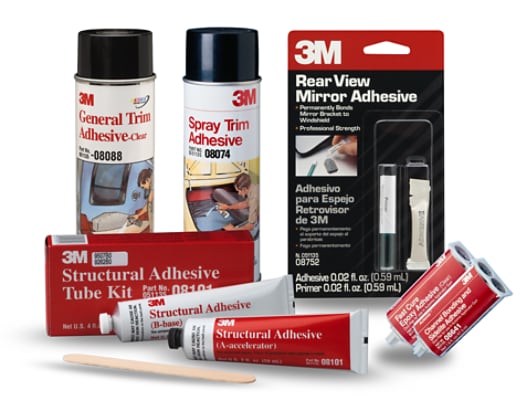 May be used for trim, fiberglass and flexible body parts repair
Like Another Set of Hands
3M™ Structural Adhesive is a two-part urethane adhesive which cures rapidly to hold a wide variety of plastic and metal automotive parts during complex repair procedures. Holding two parts in place is as simple as mixing the base and accelerator components and then applying.
Making Tough Jobs Easier
3M™ Structural Adhesive is also designed to be easy to apply. The base and accelerator portions are packaged in two easy-to-distinguish tubes, allowing for hand mixing without special applicators.
Cures Fast for Efficient Work
Once both components have been combined, 3M™ Structural Adhesive cures rapidly at room temperatures. This means that it can achieve sufficient holding strength so parts don't need to be held in place for long, helping you get your work done quickly. This helps avoid misalignments that may be caused by accidental shifting of the work pieces.
Learn more about Automotive Aftermarket products
(PDF, 1.9 Mb)