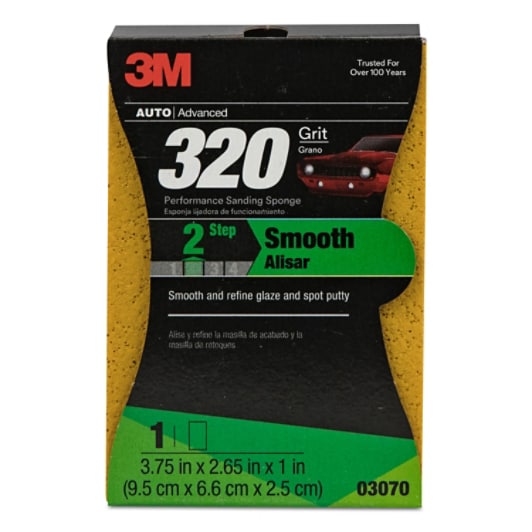 Ideal for body work
Better Finishing Solutions
In a range of grits from coarse to ultra-fine, 3M™ Performance Soft Sanding Sponges gets into tight, hard-to-reach spots for auto body finishing repairs and touch ups and for putty, glaze and primer sanding. Each sponge is highly flexible to uniformly sand curved areas such as bumpers, complex body lines, headlight openings, door handles, door jambs, and more. These specialty purpose sponges will reach challenging locations that ordinary sanding tools simply cannot reach.
The soft foam backing helps to evenly distribute pressure points while hand sanding, creating a smooth and consistent finish. For added versatility, these sanding sponges can be used for either wet or dry sanding. Offering exceptional convenience, 3M Performance Soft Sanding Sponges are ready to use straight from the package without any special tools, supplies or conditioning prior to use.
Recommended Applications
Extra fine, 320 — 400, grit sponges are used for sanding putty, glaze and primer.
Ultra fine 800 — 1000 grit sponges are used for lightly scratching (or scuffing) the area around a repair before painting.
Micro fine 1200 — 1500 grit sponges are used for paint finishing and for sanding clear coat.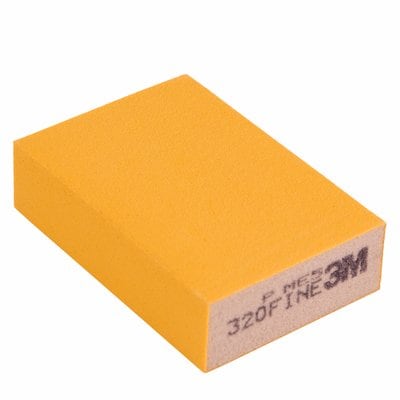 Sands faster and lasts longer
Integral to 3M Body Repair System
The 3M Body Repair System connects two great brands and demonstrates how 3M and Bondo® branded products work together to achieve an excellent body repair. The four-stage process highlights the different steps for repairing everything from a paint scratch to a small dent to a patch of rusted out metal.
A Portfolio of Abrasive Systems Solutions
From specialty abrasives designed for a highly specific purpose -- like our 3M Performance Soft Sanding Sponges -- to versatile, jack-of-all-trades sheets, you can find an abrasive tool to accomplish your task or perfect your system. At 3M, we draw from a wealth of original technologies and breakthrough inventions to provide a broad portfolio of abrasives that shape, finish and polish with ease and precision.