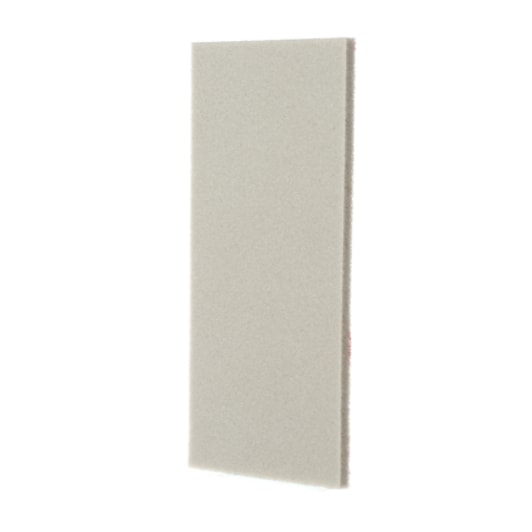 Ready to use straight from the package without any special tools during Stage 4 of the 3M™ Body Repair System
Better Finishing Solutions
In a range of grits including coarse, medium and fine, 3M™ Performance Soft Sanding Sponges let you reach tight, hard-to-reach spots for auto body finishing repairs and touch ups and for putty, filler, glaze and primer sanding. Each sponge is highly flexible to uniformly sand curved areas such as bumpers, complex body lines, headlight openings, door handles, door jambs, and more. These specialty purpose sponges will reach challenging locations that ordinary sanding tools simply cannot reach.
The soft foam backing helps to evenly distribute pressure points while hand sanding, creating a smooth and consistent finish. For added versatility, these sanding sponges can be used for either wet or dry sanding. Offering exceptional convenience, 3M Performance Soft Sanding Sponges are ready to use straight from the package without any special tools, supplies or conditioning prior to use.
Recommended Applications
320 grit sponges are used for sanding putty, glaze and primer.
800 grit sponges are used for lightly scratching (or scuffing) the area around a repair before painting.
1200 grit sponges are used for paint finishing and for sanding clear coat.
Use 3M™ Performance Soft Sanding Sponges during the Fill, Paint and Finish stages of the 3M Body Repair System.
About the 3M™ Body Repair System
Even a small repair can seem complex at first. So 3M's Body Repair System simplifies the entire automotive body repair process by dividing it into four stages:
Stage 1 — Prepare.
This stage includes pulling dents, removal of paint and rust and efficient, effective masking of the area.
Stage 2 — Fill.
This stage involves patching holes with reinforced filler and smoothing and shaping filler before painting.
Stage 3 — Paint.
This stage includes painting the area and blending and smoothing primer and paint.
Stage 4 — Finish.
The final stage for showroom-grade results: removing small defects, sealing and polishing clear coats and other painted surfaces.
3M supplies premium products such as abrasives, tapes, body fillers and tools for every stage. This system helps you work easily, efficiently and successfully across the entire body repair process.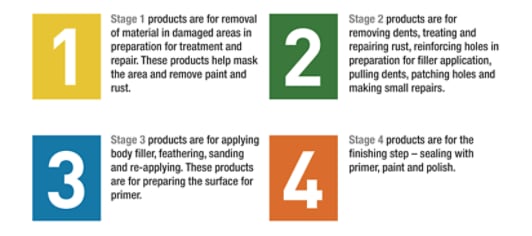 The Science for Better Sanding from 3M
As a supplier of auto body products for decades, 3M puts science into the places you need it most. Our Performance Soft Sanding Sponge is a great example: conformable, flexible and able to reach into places that other tools can't. It's another way that 3M applies science to the life — and helps you get the most enjoyment and value from the vehicles you own.
Discover More 3M™ Automotive Aftermarket Solutions.
(PDF, 68.63 Mb)
Flexible foam sanding pad comes in a range of coarse, medium and fine grits
Highly conformable to provide uniform finish on curves and contours
Use for putty, glaze and primer sanding
Ready to use straight from the package for ease of use and convenience
Designed for hand sanding