3M™ Stikit™ Abrasive Hand Pad is a favorite among auto body technicians. Firm yet conformable and lightweight, this 2-3/4 x 6-inch pad makes corner and contour sanding easier. Use it with all grades of 6-inch 3M™ Stikit™ Discs.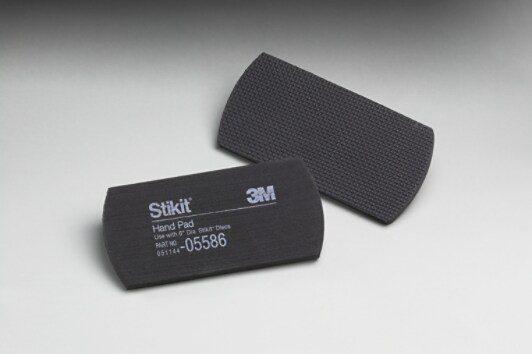 For use with all grades of 6 inch diameter Stikit™ discs, these pads are firm yet conformable and lightweight
Blocking, Feather-edging and Finish Sanding
Every pro knows that without a smooth, flat surface, the finished paint won't look good. Our 3M™ Stikit™ Abrasive Hand Pad helps distribute pressure so you get a flatter, smoother surface — without the distortion of finger marks or uneven pressure.
This medium density hand pad will help you get metal surfaces to target values more quickly. Used for hand sanding inside angles and edges, and is commonly used in automotive body shops. The flexible, lightweight construction also conforms to contoured surfaces where edgework is needed. The rubber pad securely holds a Stikit Disc of any grade. The pad is 3/8" thick and stiff enough for edgework but flexible enough to conform to contours.
Wrap the disc around the pad for versatility when sanding flat surfaces with edgework. The folded edge is ideal for accessing hard-to-reach angles and corners.
Stay In Action with Our 3M™ Stikit™
Labor is every shop's biggest outlay. The 3M™ Stikit™ pressure sensitive attachment system keeps technicians in action. Attaching our
3M™ Stikit™ Discs
(PDF, 2.4 Mb) to the hand pad is as simple as pressing on a sticker. The attachment is secure even for rugged jobs. Removal is clean with no sticky residue left behind.
3M Science. Smooth Matters.
Paint does more than look great and defects, of course, weaken the paint. It protects the vehicle from weather, corrosion, loss of gloss. It needs to resist mechanical impacts like road debris and chipping.
Ultimately, it needs to make the car visually appealing. Rich, saturated color reflects uniformity and brilliant shine.
At 3M, we understand the science of smooth and we make the tools to help you build more perfect surfaces.