Our Standard Abrasives™ Combi Cross Buff HP is uniquely designed with a combination of 2-ply coated abrasive material and stiff, durable Standard Abrasives™ HP Buff and Blend material to deburr, clean and finish all at the same time. The Combi Cross Buff HP fits inside hard-to-reach areas like the internal diameters of pipes and tubing to produce thorough results.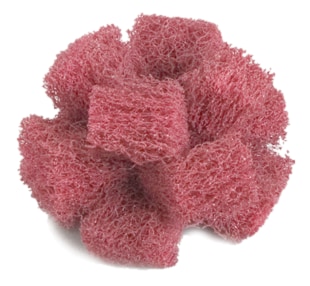 Close Up
A Responsive Design
Standard Abrasives™ Combi Cross Buff HP is your go-to product for challenging inside diameters requiring a unique, conformable abrasive. HP material has added stiffness to aid in durability and consistent finishes. While discs or wheels may be unable to get inside a narrow pipe or tube, our cross buff was designed to do just that. The abrasive fingers bend and flex to accommodate the inner diameter of the workpiece, removing stock material without compromising the geometry of the part.
Sharp Cut with Added Durability
Choose our Standard Abrasives™ Combi Cross Buff HP with Very Fine (VFN) grade aluminum oxide to remove burrs or weld marks and at the same time finely finish internal diameters. The mineral cleans with a sharp cut while still delivering a fine polish. Standard Abrasives™ Buff and Blend HP material is stiffer than the GP version, and a better choice for applications requiring more aggressive metal removal.
Multi-Purpose Utility
Given the versatility of the abrasive material, the buff is well-suited for deburring, removing surface oxidation, removal of rust and surface coatings for part inspection, and surface preparation prior to coating. It can help remove corrosion on Steel Rule and Kirksite dies. It's also great for cleaning and polishing round and square tubing, valve spools, molds, dies and inside diameters of lifter bores, valve bodies and brake cylinders.
Attachment Styles
Standard Abrasives™ Combi Cross Buff HP has a threaded eyelet that fastens to a mandrel, which in turn threads onto the power tool. The 2" buff has an 8-32 eyelet, and the 3" buff has a 1/4-20 eyelet.
The Many Benefits of Open Web Abrasives
In addition to the unique design of the Standard Abrasives™ Combi Cross Buff HP, the open web construction also adds a level of sponginess and flexibility. This open web material is created by combining non-woven nylon strands and abrasive mineral with resin. Gaps between the nylon fibers allow unwanted swarf to escape, enhancing load resistance. As the abrasive is less likely to clog with debris, the mineral keeps cutting sharper, longer.
The open web material is also waterproof and may be used with lubricants, which help to keep the abrasive running cool and wash away swarf. The load-resistant properties of the web, combined with the swarf-cleaning action of the lubricant, help to prevent workpiece contamination. As debris clears away, the likelihood of particles smearing or blemishing the substrate decreases.
Trust our Standard Abrasives™ Combi Cross Buff HP to help you tackle hard-to-reach surfaces with efficiency and ease.