Combination of non-woven and coated abrasive materials is efficient for stock removal and finishing in one step
Medium (MED) grade abrasive cuts fast and produces a fine finish
Unique abrasive design enables buff to fit inside hard-to-reach areas
May be used with a lubricant to run cool and wash away swarf
Ideal for producing clean burr-free finishes
Maroon
Our Standard Abrasives™ Combi Cross Buff GP is uniquely designed with a combination of 2-ply coated abrasive material and maroon Standard Abrasives™ Buff and Blend material to deburr, clean and finish all at the same time. The flexible Combi Cross Buff fits inside hard-to-reach areas like the internal diameters of pipes and tubing to produce thorough results.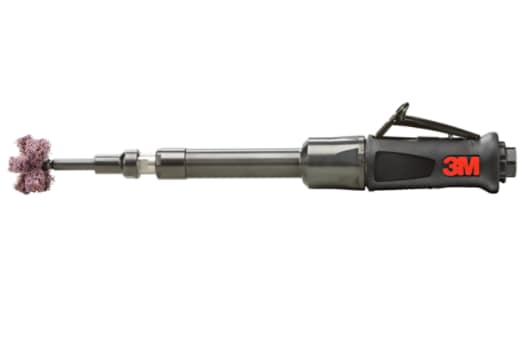 When used with a die grinder, cross buffs are ideal for polishing and cleaning inside diameters and hard-to-reach areas
The Many Benefits of Open Web Abrasives
In addition to the unique design of the Standard Abrasives™ Combi Cross Buff, the open web construction also adds a level of sponginess and flexibility. This open web material is created by combining non-woven nylon strands and abrasive mineral with resin. Gaps between the nylon fibers allow unwanted swarf to escape, enhancing load resistance. As the abrasive is less likely to clog with debris, the mineral keeps cutting sharper, longer.
The open web material is also waterproof and may be used with lubricants, which help to keep the abrasive running cool and wash away swarf. The load-resistant properties of the web, combined with the swarf-cleaning action of the lubricant, help to prevent workpiece contamination. As debris clears away, the likelihood of particles smearing or blemishing the substrate decreases.
Trust our Standard Abrasives™ Combi Cross Buff to help you tackle hard-to-reach surfaces with efficiency and ease.