Flexible spindles bend easily for contact with internal radii and cylinder walls
Useful for light deburring, polishing, cleaning, blending and edge breaking
Lightweight abrasive suitable for following traditional grinding with a Resin Fiber Disc or Flap Disc
Effective on aluminum, steel and titanium
Use with Standard Abrasives™ TM-4 Mandrel 707605 (sold separately) for attachment to a die grinder
Our Standard Abrasives™ Surface Conditioning Star has six spindles with a center eyelet. Made with non-woven technology, the spindles have the flexibility to fit into tubing, piping and other hard-to-reach areas, and the conformability to deburr or clean irregular surfaces without changing the geometry of the piece. The spindles also allow the operator to view the work surface during use.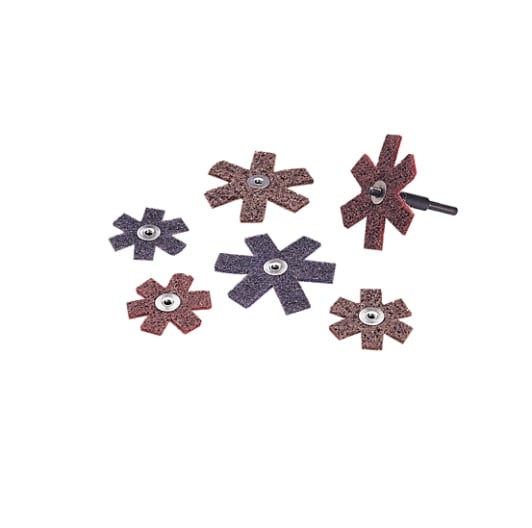 Useful for light deburring, polishing, cleaning, blending and edge breaking
Recommended Applications
The Standard Abrasives™ Surface Conditioning Star comes in small sizes to fit interior diameters, with the smallest diameter being 1-1/2 inches and the largest diameter being 4 inches. These stars lightly deburr and blend contours and ridges without gouging or marring the surface, helping to reduce scraps and rework. Stars may be used on a variety of metals: stainless steel, aluminum, carbon steel, cast iron, titanium and non-ferrous metals.

Learn about 3M™ Industrial Products for Metalworking (PDF, 73.23 Mb)

Durable and Heat Resistant
Ideal for light deburring and blending applications where final finish is important, the Standard Abrasives™ Surface Conditioning Star delivers a fast cut and consistent finish in a single step. The non-woven nylon material is both durable and load-resistant, meaning the star can used again and again. The heat resistant open web makes this an excellent choice for use on aluminum, stainless steel and titanium.

Ease of Use
The Standard Abrasives™ Surface Conditioning Star has a 1/4-20 threaded eyelet arbor hole and is used with a Standard Abrasives™ TM-4 Mandrel 707605 (sold separately) with a 3" shank, 1/4" shank diameter, and thread size of 1/4-20. The mandrel enables attachment to a die grinder and enables safe use at high speeds. Low pressure application produce optimal results when used at suggested speeds. Three grades are available: coarse (CRS), medium (MED) and very fine (VFN), with the CRS abrasive producing a larger, more aggressive scratch pattern and the VFN a soft, finer scratch pattern.

Quality Standard Abrasives™ Solutions for Industrial Applications
The Standard Abrasives brand has supplied quality abrasives to the metalworking industry for over 50 years. Customers rely on our broad offering of high performance products including coated, bonded, and non-woven abrasive lines.

Standard Abrasives Coated, Bonded Non-Woven Prod Cat Ref Guide (PDF, 2.94 Mb)