Available in three shapes, so tool may be tailored to wheel design and position
Features diamond mineral for sharp and acute dressing
Metal bond helps tool withstand wear
Tool head is adhered to a strong steel shank for added durability
Available in different sizes
Experienced operators know dressing is integral to the health and performance of a grinding wheel. That's why we designed the 3M™ Diamond Impregnated Grit Dressing Tool — to help operators keep their grinding wheels in great shape.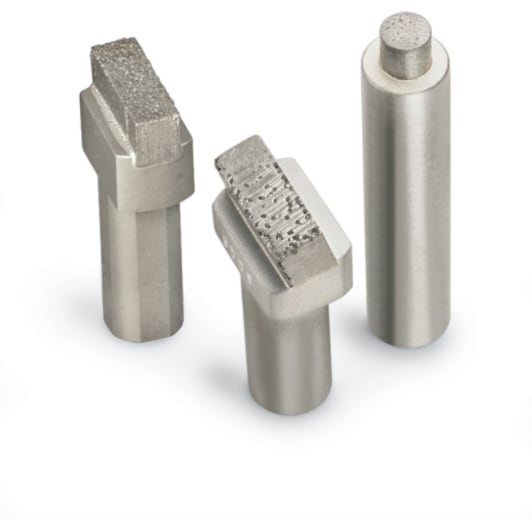 Available in three shapes, so tool may be tailored to wheel design and position
Don't Forget to Dress
3M offers a versatile line of dressing tools, each uniquely equipped to sharpen specific wheels. Ultimately, the dressing tool you select will be based on a variety of factors, including wheel size, mineral type and just how much buildup needs to be cleared from the wheel. Diamond impregnated tools are versatile dressing tools, designed for most common dressing applications.
We engineered this diamond dressing tool by combining durable diamond grit with a metal bond matrix in straight or offset configurations. It comes in three shapes, so operators can tailor their approach to dressing. The three shapes include: 15 degree angle, straight and cylindrical straight round. The fine-grained diamond mineral is adhered to the head of each shape, ready to softly scrape away resin and debris and unearth the sharp wheel mineral beneath. Compared to multi-point dressing tools — where the diamond mineral is raised on the head — the diamond mineral on an impregnated tool is finer and more inset, making it a good option when light-pressure dressing, almost brush-like, is desirable.
Help Wheels Live Longer
While truing is synonymous with profiling and helps restore the wheel's original shape, dressing sharpens its surface. Naturally, bond material and swarf build up on the wheel over time. Moreover, when a loaded wheel heats up, it can lead to glazing or smoothing of the wheel's textured face. These issues highlight the importance of dressing; it will help your wheel run as intended. Trued and dressed wheels have fresh cutting edges that grind quickly and evenly on metal surfaces, which increases throughput and improves quality.
In summary, truing and dressing are important maintenance processes required to keep expensive abrasive wheels cutting consistently. These applications help you extend the lifespan of your wheels and should be an integral part of any workshop that uses abrasive wheels regularly.