Attaches to the 3M™ 3125 Nib Sander with the existing 4 screws
Dual Lock™ hooks on the skirt interlock with the hooks on a 3M™ Dual Lock™ Disc Pad (sold separately, PN 20247) for extra strong attachment
Durable fastener system provides reliable attachment even in extreme wet applications
Secure connector enables maximum operator control for precise finishing results
Max RPM 7,500
The 3M™ Dual Lock™ Rubber Skirt (PN20246) screws onto a 3M™ 3125 Nib Sander and offers a highly secure attachment for a 3M™ Dual Lock™ Disc Pad (sold separately). This solid foundation enables operators to achieve the highest level of finishing precision from film discs, even in extreme wet applications.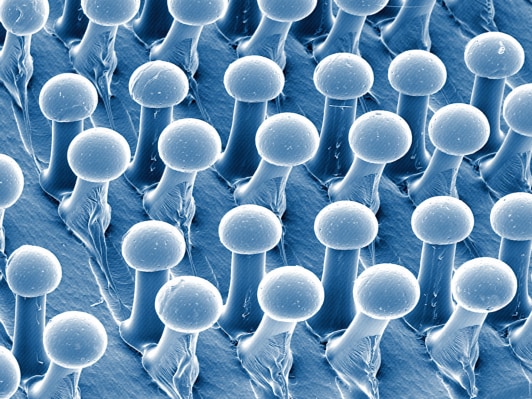 The mushroom-shaped stems snap together tightly for dependable repeatable attachment
Precise Performance in Wet Conditions
Whether repairing clearcoat defects or scuffing solid surfaces, a lubricant helps keep the workpiece and disc free of debris to produce the cleanest surface possible for polishing or final finishing. Under extremely wet conditions, the operator may desire a stronger attachment between the disc pad and the tool to enhance performance precision — and that's where the 3M™ Dual Lock™ Rubber Skirt comes in.
Superior Holding Power
3M engineers designed Dual Lock™ with super strong holding power — this industrial-strength fastener offers five times the holding strength of traditional hook and loop products. These mushroom-shaped stems audibly "snap" together with the stems on the Dual Lock™ Disc Pad (sold separately, PN20247) to form a highly secure attachment.
3M Science Applied to Abrasives
The 3M Abrasives Systems Division is continually innovating ways to improve the efficiency and work environment of industrial professionals. The superior strength of 3M™ Dual Lock™ fasteners is one more reason that you can depend on 3M science to help you achieve a flawless finish.