The 3M™ Forked Spindle was designed to bring those seemingly hard-to-reach workpiece areas within reach. It can be tough to access internal diameters with other types of abrasives – be they wheels, brushes or discs, and that's why this accessory was created. When you find yourself in a tight corner or hole, turn to the 3M™ Forked Spindle.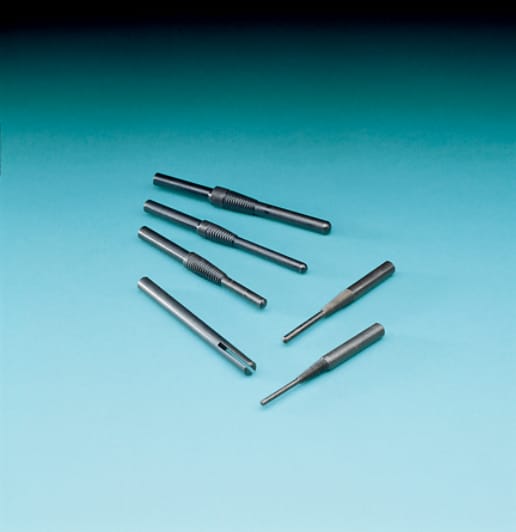 3M™ Forked Spindle, bottom left, differs from the mandrels shown here because of its fork-shaped end.
Access Hard-to-Reach Areas
Often, operators aspire to achieve smooth finishes, polishes and seamless welds on their workpieces. Yet, intricate parts can present a challenge: how do you navigate small corners and tight spaces? We engineered the 3M™ Forked Spindle to help operators access these hard-to-reach areas. That way, no workpiece area need go unfinished.
Tips for Optimal Use
Using the 3M™ Forked Spindle is simple. Much like a mandrel, it fastens to a die grinder or other rotary tool (sold separately). Its design differs from a mandrel, however, because it has a fork-shaped end. Instead of extending the reach of a disc — like a mandrel — the forked spindle itself gets in, over and around the workpiece.
As the spindle rotates, the coated abrasive strip that is attached to the spindle rotates too. The rapid rotation of the coated abrasive strip and / or utility cloth helps clean and polish inner diameters and other tight areas. To attach the abrasive strip, operators simply need to cut it to size and slip it into the slot at the end of the spindle. Operators can choose the utility cloth strip that is best suited to their specific application, whether opting for a more aggressive abrasive with coarse-grade silicon carbide mineral or a softer abrasive with fine-grade aluminum oxide mineral. The 3M™ Forked Spindle has a slot width of 1/16" and slot length of ¾".
In the end, this abrasive accessory was designed to help operators tackle the tough areas and make sure all details are accounted