Festool O-Rings help ensure that your compressed air sanding tools operate without air leakage as part of the Festool dust extraction system. Durable rings are sized specifically to form a tight seal inside the tool attachment at the extractor hose.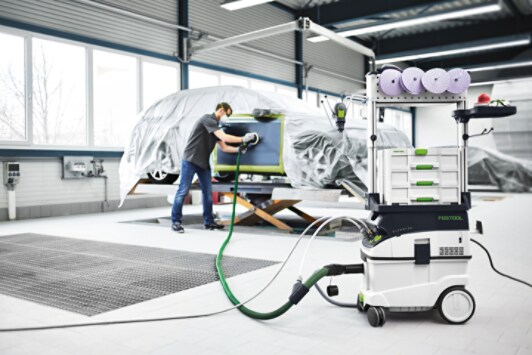 Prevent air leakage at tool attachments to help keep sanders and dust extractors operating at peak performance
Help Prevent Air Leakage at Critical Attachment Points
Designed to provide a tight seal against air leakage, Festool O-Rings are a great way to help keep Festool sanders operating at peak efficiency with your Festool dust extractor. Universally sized replacement O-Rings install quickly inside the tool attachment assemblies on a full range of Festool sanders including
LEX 3
and
LRS
. They prevent air from leaking outside of the sander or the IAS hose for effective dust extraction, and help ensure that both the sander and the extractor are operating at peak performance.
Operators can simply keep supplies of Festool O-Rings on hand in case of air leakage through tool attachments — a very cost-effective way to maintain sanding and dust extraction equipment.
A Strategic Collaboration between 3M Automotive Aftermarket Division and Festool Automotive Systems
3M's Automotive Aftermarket Division spans the globe, serving the automotive collision repair industry through more than 70 subsidiaries. 3M AAD has deep industry knowledge and maintains extensive relationships with collision-repair professionals. In collaboration with Festool Automotive Systems, 3M will now offer its customers an even stronger value. 3M best-in-class abrasives innovation, including
3M™ Cubitron™ II Abrasives
, will now be offered in conjunction with premium Festool Automotive Systems surface prep tools, dust extraction capabilities and services, creating one of the most effective and comprehensive surface preparation and finishing systems in the automotive collision repair industry.
About Festool
For 90 years, Festool has been a manufacturer of premium power tools for the most demanding applications. With a well-earned reputation for innovation and quality, Festool makes power tools widely considered the best in the automotive repair marketplace, including pneumatic and electric sanders, polishers and backup pads, vacuums and surface-prep workstations. Beyond its existing products, Festool continues to develop a new line of connected "smart tools" to power the future of collision repair.
Learn more about Festool Automotive Systems
(PDF, 1.8 Mb)