3M™ Flap Disc Adapter Nut securely attaches 3M™ Flap Discs (sold separately) to right angle grinders
Designed to fit flap discs that measure 41/2" in diameter with a 7/8" center hole
3M™ Flap Disc Adapter Nuts feature 5/8-11 thread size, for use on grinders with 5/8-11 threaded spindles
Accommodates T27 and T29 flap discs
3M™ Flap Disc Adapter Nuts are a small but important accessory that helps attach 3M™ Flap Discs securely to typical 41/2" right angle grinder spindles. The nuts will conveniently thread onto 5/8-11 spindles and feature a 7/8" diameter raised shoulder for mounting and centering T27 and T29 flap discs.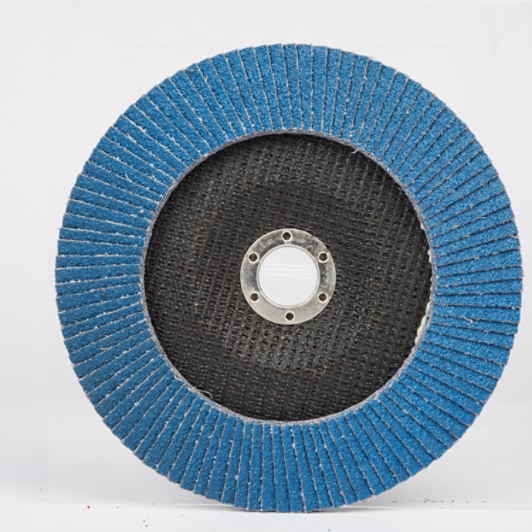 3M™ Flap Disc 566A is one of the flap discs suited to work with 3M™ Flap Disc Adapter Nuts
Make the Most of Your Flap Disc
3M™ Flap Disc Adapter Nuts secure flap discs to a right angle tool, so operators can carry on with their work and stress less about attachments. This particular adapter nut should be used with 4 ½" flap discs with a ½" center hole. 3M offers a variety of T27 and T29 Flap Discs with these measurements:
Overall, 3M™ Flap Discs offer an unbeatable system for grinding and blending in one easy step. The flap construction wears away gradually, exposing fresh mineral to extend disc life and provide consistent cut rates. Flap discs are commonly used for weld grinding, blending, deburring, rust removal, surface prep and edge grinding on all types of metals. 3M's flap discs, specifically, are made with alumina zirconia and precision-shaped ceramic grain. Mineral and grade play a part in determining which disc is best for which application. Some discs are great for high-pressure projects, like beveling and deburring, while others are well suited for low-pressure projects like blending and light cleaning. Independent of application, operators can trust that — with the help of 3M™ Flap Disc Adapter Nut — they can make the most of their disc.