For use in MRO/construction applications requiring a thin duct tape
Sticks immediately
Conformability to surface contours is promoted by thin profile
Water-resistant backing resists wear and light abrasion
Use where a thin and economical duct tape is desired. Constructed of polyethylene film laminated to cloth with a rubber adhesive, this thin tape resists curling and tears off the roll cleanly. Our 3M™ General Use Duct Tape 2929 is especially helpful when it comes to wire pulling.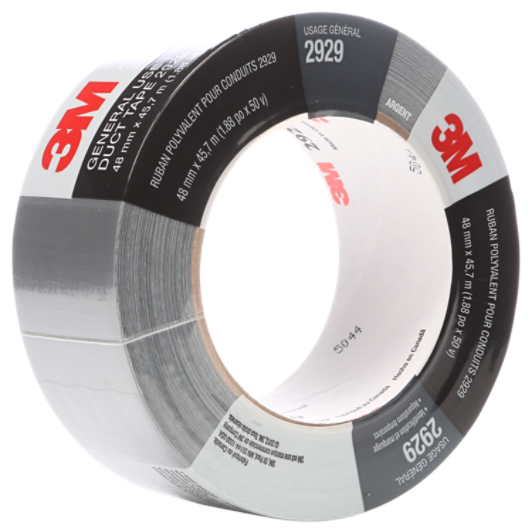 A Tape with Versatility
Originally developed for heating, ventilating and air conditioning (HVAC) applications, duct tape is used today in a variety of maintenance, repair and construction settings. Our 3M™ General Use Duct Tape 2929 is best for general, everyday duties where strength and moisture resistance are necessary. The economical tape can also be used at temperatures as high as 200°F for up to 30 minutes.

3M™ General Use Duct Tape 2929 comes with a classic, silver-colored backing. Our sturdy cloth-reinforced tape can be torn from the roll and sticks instantly, providing a wide range of convenient solutions.

Recommended Applications
Wire pulling
Patching
Capping pipe
Securing conduit ends
Marking
Labeling
Temporary repair
Versatile, practical choice for a variety of general use applications
Built to Stick
3M's family of rugged cloth and duct tapes adheres to most surfaces for applications ranging from bundling to moisture proofing, sealing to splicing, reinforcing to hanging poly drapes. Available in a variety of colors and strengths, they're known best for their hand tearability, high tensile strength and conformability.