Low outgassing properties benefit aerospace, automotive and electronics industries
Transparent, double sided, 2 mil (0.05 mm) adhesive transfer tape offers a thin profile combined with our high temperature acrylic adhesive for a long-lasting bond
55# densified kraft paper release liner reduces edge burr in hand tool processing of metal plates
High peel and shear strength creates bonds suitable for extreme conditions
Outstanding UV and chemical resistance for performance longevity
Short term temperature tolerance of up to 450 °F (232 °C)
3M™ Adhesive Transfer Tape 9462P leverages the power of 3M™ High Temperature Acrylic Adhesive 100 to produce an excellent high temperature, high strength and chemical resistant bond suitable to the demands of aerospace, automotive and electronics markets. It provides low outgassing properties necessary to deliver optimal performance in demanding applications.
Adhesive
Family
Adhesive Properties
Adhesion to:
Environmental Performance
Resistance to:
Temperature (°F)
Products
Peel
Shear
Initial
Ultimate
Room
Temp.
150°F
Metal
HSE
Plastic
LSE
Plastic
Chemical
Ultra
Violet
Plasti-
cisers
Humidity
Minimum
Application
Service
Low*
Service
High*
Acrylic Adhesives
100
3
9
10
10
9
8
1
9
10
5
10
50
-40
450
941, 965,
966, 4004,
4008, 4026,
4032, 4052,
4056, 4658F,
4921, 9379,
9380, 9462FT,
9461P, 9462P
*Reflects lowest service temperature that bond holds and highest temperature for short periods (minutes, hours).
See Full Adhesive Properties Comparison Chart
(PDF, 3.19 Mb)
Recommended Applications
3M™ Adhesive Transfer Tape 9462P is ideal for high temperature attachment (short term up to 450°F) and can be used for many kinds of applications, including:
Flexible printed circuit (FPC) attachment
Aerospace bonding applications
Automotive LED attachment
A Bond of Many Strengths
3M™ Adhesive Transfer Tape 9462P displays excellent solvent and UV resistance for long-lasting performance. In addition, the adhesive used with this product provides high peel strength. This feature along with exceptional shear strength creates tough, durable bonds. Our Adhesive Transfer Tape 9462P also comes with a hard dense liner, which reduces edge burr in hand tool processing of metal plates.
All About Adhesive Transfer Tape
Our 3M™ Adhesive Transfer Tapes are rolls of pressure sensitive adhesive (PSA) is provided on a special release liner. The tape consists of adhesive only and does not have any type of backing material. For application the tape is positioned, adhesive side down, to a surface and the liner is removed, exposing the backside of the adhesive to the joining surface. A variety of adhesive properties and liners are available to meet requirements for applications such as nameplate attachment to high and low surface energy plastics, appliance graphic overlays that perform in high temperatures, foam gasketing, web splicing, signs, posters, banners and point-of-purchase displays.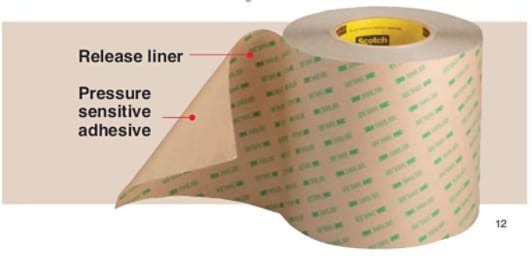 Reliable Resilience
3M™ Adhesive Transfer Tape 9462P, with the power of 3M™ High Temperature Acrylic Adhesive 100, forms the strong, tough bonds necessary to deliver the durability and resilience you need. Experience the advantages of our Adhesive Transfer Tape 9462P and the excellent performance of a reliable, hardy adhesive capable of delivering successful results in many applications.
Find More 3M Industrial Adhesives and Tapes
(PDF, 20.14 Mb)