Clear 2 mil HDPE tight-side liner enables inspection of backlit graphics prior to final adhesion
5 mil acrylic adhesive performs even when exposed to humidity and hot/cold cycles
58# PCK easy-side liner adds stability for storage and die-cutting
Adhesive 200MP is the industry standard for graphic and nameplate attachment
Excellent for graphic and nameplate attachments
High adhesive shear strength helps resist slippage and edge lifting on HSE plastics
Provides some repositionability on plastics for precise alignment of graphics and parts
3M™ Adhesive Transfer Tape Double Linered 9185MP features 3M™ High Performance Acrylic Adhesive 200MP, the industry standard for graphic attachment and die-cut parts. It offers excellent shear strength, minimal edge lifting and reduced slippage on medium- to high-surface energy plastics. A 2 mil clear HDPE liner makes for easy visual inspection, and a 58# PCK liner adds dimensional stability.
Graphic overlays and attachment
Laminating PC, ABS and PET
Bonding nameplates
Signage attachment
About Our High Performance Acrylic Adhesive 200MP
3M™ High Performance Acrylic Adhesive 200MP is an industry standard for graphic attachment and general industrial joining applications. It features outstanding adhesion to metal, polycarbonate (PC), ABS and polyester (PET). making it a popular choice across many industries. This adhesive provides some initial repositionability for placement accuracy when bonding to plastics. It has also been
tested for performance
(PDF, 695.8 Kb) after exposure to solvents, moisture, humidity and hot/cold cycles, including temperatures up to 400°F/204°C for short periods.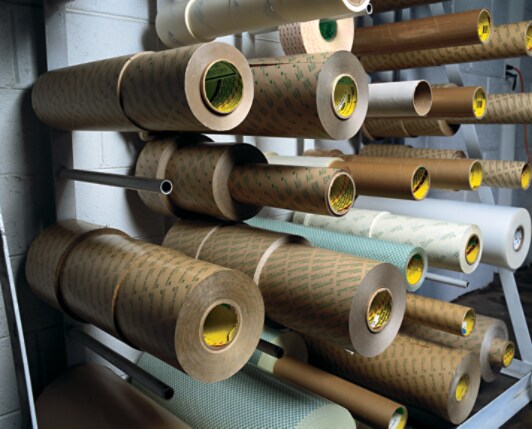 What are Adhesive Transfer Tapes?
In general, 3M adhesive transfer tapes are rolls of pressure sensitive adhesive pre-applied to a special release liner. The tape consists of adhesive only, and does not have any type of carrier material such as film. For application the tape is positioned adhesive side down to a surface and the liner is removed, exposing the backside adhesive to the joining surface.
Better Science for Better Adhesives from 3M
Since 1925 when one of our lab assistants invented masking tape, 3M has been applying science to life — developing adhesive products and technologies that help entire industries and individual businesses worldwide. The work that began with a single 3M engineer now spans decades and generations. And all of it goes into each of our industrial labeling and adh esive products like 3M™ Adhesive Transfer Tape Double Linered 9185MP, to help businesses like yours operate faster, better and more efficiently.
---
Get Data for Finite Element Analysis
Pressure Sensitive Adhesive properties are frequency and temperature sensitive. 3M has developed Material Data Cards (MDCs) for common 3M PSAs for use with many commercially available FEA software applications. Learn more.
REQUEST A 3M MATERIAL DATA CARD