Rubbing compound and finishing material in one step saves time and money
Easy to apply by hand or machine for any size job
Features aluminum oxide mineral for removing oxidation and scratches
Leaves a high-gloss finish
Safe to use on fiberglass gelcoat surfaces – contains no wax or silicone
Our 3M™ Marine Color/Gloss Restorer is a fast, effective solution for restoring the eye-catching shine and color of your boat after time in storage or on the water. This combination compound and finishing material in one features light aluminum oxide abrasive that removes light to heavy oxidation, scratches and stains. No waxes or silicone means it's safe for fiberglass gelcoats and marine paint.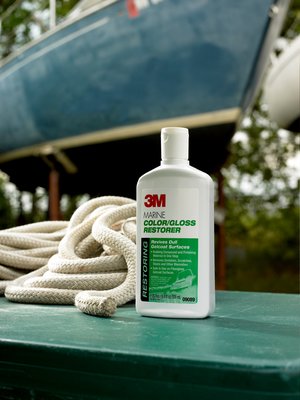 Combination compound and finishing material removes oxidation, scratches and stains
Compound and Polish in One Easy Step
Even occasional use can dull the gloss and color your boat had when it was new, and restoring the finish can involve a lot of work. Our 3M™ Marine Color/Gloss Restorer lets you restore your boat's luster in less time and effort. This restorer contains a light aluminum oxide mineral — the same as we use in some of our finest abrasive sheets and discs. It is an exceptionally fast cutting compound that removes scratches, stains and light and heavy oxidation that can dull the color of your hull and other fiberglass gelcoat surfaces.
Apply by hand or by machine
This color and gloss restorer contains no silicone or waxes that can cling to the surface and interfere with the cut, and is safe for use on fiberglass gelcoat. You can apply it by hand for smaller areas, or apply it with a machine for larger areas. We recommend protecting your finish with
3M™ Perfect-It™ Boat Wax
or
3M™ Marine Ultraperformance Paste Wax
to maintain the restored color and gloss.
Better Science for Better Boating from 3M
When a single 500 mL (16.9 oz.) bottle can replace separate compounding and polishing steps to restore the shine and color to your boat, that's science. In fact, our 3M™ Marine Color/Gloss Restorer benefits from decades of development in compounding and polishing — including the world's first waterproof sandpaper created in the 1920s. It's a terrific example of how 3M applies science to the lives of boating enthusiasts for better boating.