Economical compound removes sanding scratches in tooling gelcoat
Aggressive properties cut quickly to save time
Finish may be polished to a high gloss
Tooling compound works great on hard surfaces
Compounding produces a smooth surface
3M Premium Mold and Tooling Compound aggressively removes sanding scratches in tooling gel coat (P600 or finer discs P1000 or finer 3M™ Wetordry™ sheets), reducing sanding and compounding time while saving time and money for marine boatyards.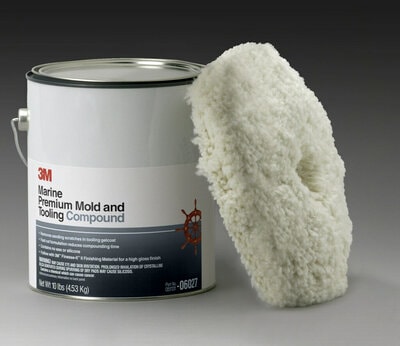 P1000 scratches can be easily removed with 3M™ Premium Mold & Tooling Compound and 3M™ Superbuff™ Compounding Pads
Eliminate Sanding Scratches
3M Premium Mold and Tooling Compound rids boats of those annoying scratches that result from sanding. Our mold and tooling compound cuts quickly and leaves a fine finish that is easily polished to a high gloss. We recommend following up with
3M™ Finesse-It™ II Finishing Material (PN 09048)
for a clean high gloss finish.
Special Formula for Tooling Gel Coats
We recommend this compound for tooling gelcoats, which have different properties than regular gelcoats. A tooling gelcoat is typically harder than regular gelcoat, and therefore is often used for applications where no flexing will occur. Tooling gelcoats are ideal for molds that will not flex but will be polished to a high luster.
3M Science Provides the Solution
To eliminate the fine scratches that come from sanding, we turned to science. We formulated a compound that works with the hard surface of a tooling gelcoat, resulting in a smooth surface that can be polished to a mirror-like high gloss.
Learn More about Tooling Gelcoat Finishing Products
(PDF, 290.14 Kb)
| | |
| --- | --- |
| Surface Conditioning | Tooling Gelcoat |
| Sand spray patch/remove heavy scratches | 3M™ Imperial™ 360L Discs P220 with Standard Disc Pad |
| Remove medium scratches | 3M™ Imperial™ 360L Discs P500 with Standard Disc Pad |
| Refine/remove fine scratches | 3M™ Imperial™ 360L Discs P800 with Standard Disc Pad & Soft Interface Pad |
| Refine/remove P1000 (optional) | 3M™ Imperial™ 360L Discs P1000 with Standard Disc Pad |
| Remove P800 or P1000 sand scratches | 3M™ Premium Mold & Tooling Compound with any 3M™ Superbuff™ Compound Pad |
| Increase Gloss | 3M™ Finesse-It™ II Finishing Material with any 3M™ Superbuff™ Polishing Pad |
Step
Production Gelcoat Finishing System
Tooling Gelcoat Finishing System
Step
1
3M™ Hookit™ Imperial™ 360L P280 with Standard Disc Pad
3M™ Hookit™ Imperial™ 360L P280 with Standard Disc Pad
1
2
3M™ Hookit™ Imperial™ 360L P500 with Standard Disc Pad
3M™ Hookit™ Imperial™ 360L P500 with Standard Disc Pad
2
3
3M™ Hookit™ Imperial™ 360L P800 with Standard Disc Pad
3M™ Hookit™ Imperial™ 360L P800 with Hookit™ Soft Interface Disc pad
3
4
3M™ Imperial™ Compound & Finishing Material with any Superbuff™ Compound Pad
3M™ Premium Mold and Tooling Compound with any Superbuff™ Compound Pad
4
5
— OPTIONAL —
3M™ Finesse-It™ II Finishing Material with any Superbuff™ Polishing Pad
3M™ Finesse-It™ II Finishing Material with any Superbuff™ Polishing Pad
5