Primer compatible with flexographic printing applications
Enables high value, custom void label constructions
Provides strong adhesive bond between facestock and contrast coating
Typical applications include bar code tracking, thermal transfer labels, warning labels
3M™ Primer Y122 is used to provide a strong adhesive bond between facestock and the contrast enhancement coating on tamper evident label materials.
Bar Code Tracking
Thermal Transfer Labels
Variable Information Printing (VIP)
Brand and Instruction Labels
Tamper Indicating (PDF, 304.2 Kb)
Destructible Labels
Void Message
Fraud Reduction
Laminating, Bonding and Digital Window Graphics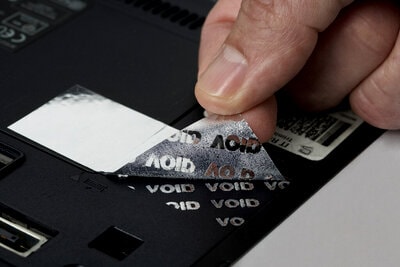 The products discourage tampering by displaying an easily identifiable and irreversible change when removal or alteration occurs
Security Against Tampering, Fraud, Counterfeiting, Theft
3M™ Tamper Evident products stay on guard letting you or your customers know about unwanted access, opening, or tampering of labels and seals. These theft deterrents leave a mark when removed that lets everyone know it has been tampered with or removed.
Discourage theft with ownership labels that tell they've been removed or altered
Enforce non-transferable warranties with security-seal warranty labels
Help prevent fraud and counterfeiting with irreplaceable labels and hard-to duplicate patterns that reveal when labels have been removed
Seal corners, flaps, seams, and lids of packages and products whenever it's better to know if they've been previously opened
Learn more about 3M™ Tamper Evident label products
(PDF, 489.93 Kb)
Bringing Better Ideas to the Surface through Science and Innovation
In our 3M Industrial Adhesives and Tapes Division, we apply the science of adhesion to deliver innovative solutions that improve the design and manufacturing processes of companies around the world. In the end, our technologies help customers like you deliver competitive products to the market faster and more efficiently.