Approach the toughest high-speed cutting tasks with this high-performing Standard Abrasives™ Ceramic Cut-Off Wheel. The extra sharp cutting power of ceramic grain combined with reinforced fibers throughout this wheel swiftly meet the challenge of cutting into or removing metal. This wheel offers precision performance on carbon steel as well as stainless steel.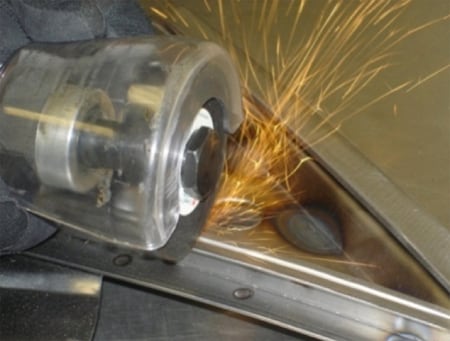 Ceramic wheels deliver high performance, exceptional durability and metal cutting efficiencies
Sharp Ceramic Wheel Offers Premium Performance
Rigid and fast-cutting, our Standard Abrasives™ Ceramic Cut-Off Wheel rapidly accomplishes tough tasks such as cutting through auto body or marine sheet metal, stainless steel tubing and exhaust pipes; and removing clamps, shafts and rusted bolts. A ceramic wheel is ideal for operations where efficiency and value rely on premium performance.
Using a Cut-Off Wheel
Unlike abrasive discs, which shape or sand objects using the disc surface, cut-off wheels cut through the workpiece using the outer edge of the wheel. Cut-off wheels run on a high speed cut-off tool (sold separately) and must always be used with a wheel guard for safety. THE TOOL USED MUST NOT EXCEED THE MAXIMUM OPERATING SPEED (MOS) OF THE WHEEL.
Ceramic Mineral for a Sharper, Faster Cut
This ceramic wheel contains abrasive mineral throughout the wheel to keep the edge cutting sharp with fresh mineral on every rotation. Ideal for heavy stock removal, ceramic abrasives not only fracture into sharp points that cut exceptionally fast, but they are formulated with the stability needed to withstand intense heat and stress applications.
Quality Standard Abrasives™ Products for Industrial Applications
The Standard Abrasives™ brand has supplied quality abrasives to the metalworking industry for over 50 years. Customers rely on our broad offering of high performance products including coated, bonded, and non-woven abrasive lines.