Aluminum oxide mineral is suitable for cutting a wide variety of materials
Dense construction of the wheel allows long life
Fiber reinforced construction optimizes safety and durability
Wheel must have a maximum operating speed greater than or equal to the maximum speed of the power tool used
MUST BE USED WITH ANSI-APPROVED FLANGES FOR TYPE 1 CUT-OFF WHEELS AND A WHEEL GUARD THAT FITS THE SIZE OF THE CUT-OFF WHEEL
Rely on the sharp cutting edge of the Standard Abrasives™ Aluminum Oxide Cut-Off Wheel for precision performance when cutting into or removing metal. Aluminum oxide grain combined with reinforced fibers throughout this wheel efficiently meets the challenge of cutting into or removing metal. This wheel performs well on a variety of materials, such as stainless steel and mild steel.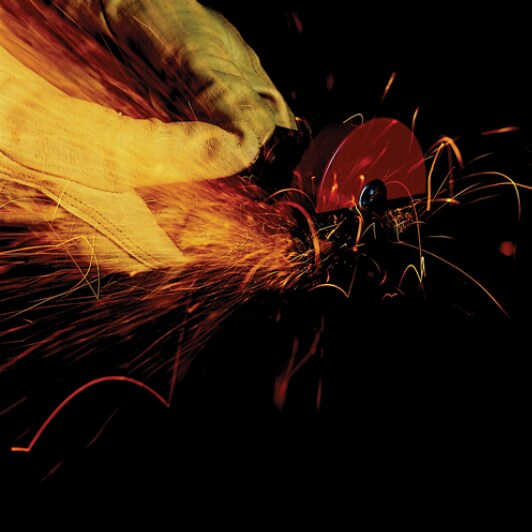 Cut Through Metal with Precision
Our fast-cutting Standard Abrasives™ Aluminum Oxide Cut-Off Wheel accomplishes tough tasks such as cutting through auto body or marine sheet metal, stainless steel tubing and exhaust pipes, or removing clamps, shafts and rusted bolts. It is a good choice for use on stainless steel and mild steel.
Using a Cut-Off Wheel
Unlike abrasive discs, which shape or sand objects using the disc surface, cut-off wheels cut through the workpiece using the outer edge of the wheel. Cut-off wheels run on a high speed cut-off tool (sold separately) and must always be used with an ANSI-approved wheel guard for safety. THE TOOL USED MUST NOT EXCEED THE MAXIMUM OPERATING SPEED (MOS) OF THE WHEEL.
Durable Wheel, Fast Cut
Aluminum oxide is a popular choice among industrial professionals because of its versatility on different surfaces, fast cut-rate and long life. It is a tough, durable abrasive that self-fractures to expose fresh cutting edges in use. Due to its fast cut-rate, hardness, strength, and low heat retention, aluminum oxide mineral is used in many forms of abrasive products and on a wide variety of materials including ferrous and non-ferrous metals.
Quality Standard Abrasives™ Products for Industrial Applications
The Standard Abrasives™ brand has supplied quality abrasives to the metalworking industry for over 50 years. Customers rely on our broad offering of high performance products including coated, bonded, and non-woven abrasive lines.
See the Coated, Bonded & Non-Woven Product Catalog & Reference Guide for more information
(PDF, 2.9 Mb)