Dense construction provides aggressive cut on harder metals
Durable, aggressive disc with high concentration of abrasive mineral is fast cutting and consistently produces a bright finish throughout the life of the disc
Flexible open web responds to surface irregularities to prevent undercutting or gouging, reducing finishing process steps
Gaps between nylon fibers permit debris to escape, enhancing overall load resistance
May be used with portable disc sander, enabling easier access of hard-to-reach areas
The Scotch-Brite™ Cut and Polish Unitized Disc was engineered to tackle your toughest deburring, blending and finishing needs. It assumes unitized form, meaning layers of abrasive material are compressed together to remove burrs and imperfections without wearing easily. As a disc, it also has great portability – moving in, on, over and around the workpiece.
High performance and durability of a 3M Die Grinder
Working Hard on Hard Metals
Our Scotch-Brite™ Cut and Polish Unitized Disc may be used as an alternative to conventional abrasive products such as rubber bonded discs and small set-up discs. It provides a consistent finish without cutting into the workpiece, reducing or even eliminating intermediate steps. Constructed with aluminum oxide mineral coated on a tough nylon web, this versatile disc is great for use on harder metals like stainless steel, carbon steel and high nickel alloys. The aluminum oxide disc may be used with regular attachment systems and fastened to a portable tool, such as a die grinder. The disc can be brought in direct contact with the workpiece and helps users tackle hard-to-reach areas.

The Cut and Polish Unitized Disc is available in two grades, fine (FIN) and medium (MED), so users may choose the right grade for their specific application. Typically, finer grades are used when operators desire a softer cut and finer finish. Conversely, a medium grade would be used when operators desire a more aggressive cut and coarser finish.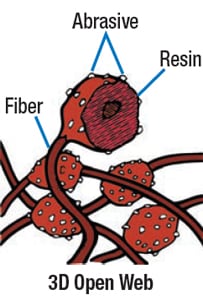 The Scotch-Brite™ Advantage
Scotch-Brite™ abrasives are unique surface conditioning products with abrasives incorporated into non-woven nylon or synthetic fibers. Combining abrasives with the fibers creates an abrasive system that delivers consistent results for the life of the product. The open web material runs cool and is load resistant, which keeps the abrasive minerals cutting at high performance by limiting clogging of the fibers and yielding consistent results — part after part.