3M™ Trizact™ Industrial Diamond HX Film Disc 673LA is designed for speed, consistency and control in flat finishing, grinding and lapping applications on technical ceramics, glass and exotic metals. The diamond-filled pyramid structures are bonded to a 5-mil waterproof backing with a layer of polycarbonate for support, enabling use with coolants.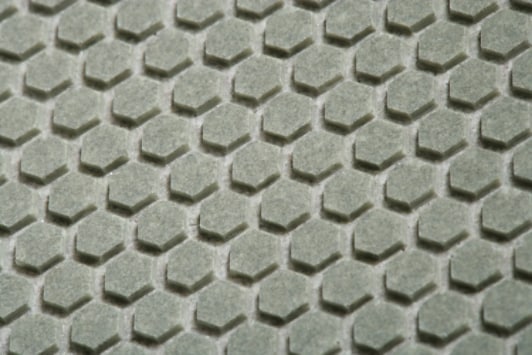 Consist of precisely-shaped three-dimensional structures distributed uniformly over the substrate
Faster Throughput on Tough Materials
Ideal for finishing hard-to-grind materials, 3M™ Trizact™ Industrial Diamond HX Film Disc 673LA may reduce total cycle time when used for intermediate grinding and pre-polishing of technical ceramics, glass and exotic metals. It is ideal for flat lapping or rotary finishing of hard-to-grind materials. Choose from micron grades of A3, A6 and A10.
Why Choose Microreplicated Abrasives?
To achieve precise surface parameters, the size, shape and surface of the abrasive is key to success. Consistent shape and size of abrasive mineral enables optimum material removal rates and constant uniform contact with the surface of the workpiece. Irregular size and shape can scratch or gouge. 3M™ Trizact™ Industrial Diamond HX Film Disc 673LA uses 3M microreplication technology to produce an engineered surface of patterned, microscopic, three-dimensional structures resembling hexagons which are uniformly distributed over the surface of the backing.
As the hexagons wear, fresh, sharp mineral is exposed to produce a consistent cut and a predictable, fine finish. Altogether, this means fewer scraps and discards as a consequence of inconsistent results. Ongoing sharp cutting action minimizes the need to incorporate other abrasives in the sequence, thereby reducing processing steps and enhancing productivity.
Reduce Slurry Clean-up, Use Existing Equipment
Our Trizact™ Industrial Diamond HX Film Disc 673LA diamond abrasives are 3M's time- and money-saving alternative to messy slurries and expensive fixed abrasive systems such as pellet laps. Designed to work with aqueous coolants, they reduce cleanup and toxic waste disposal issues associated with abrasive slurries. Use a 90/10 mixture of water with any water-based (aqueous) coolant, such as Sabrelube™ 9016 — although any glycol-containing solution or plain water is satisfactory.
These discs can be used on your existing flat grinding and finishing equipment, both single and double-sided lapping machines. Not only do these abrasives require no additional equipment, thereby reducing expenditures, but cleaner operation with less slurry reduces machine wear.
Finishing Exotic Metals More Efficiently
Trizact™ Industrial Diamond HX Film Disc 673LA abrasives have demonstrated outstanding performance on a wide range of demanding materials including:

As these structures wear, fresh, sharp diamond abrasive is continually exposed to the workpiece
Spinel
Sapphire
Alumina
Zirconia
Ferrites
Tungsten carbide
Ferroelectric ceramics
Silicon nitride
Silicon carbide
Beryllium
Molybdenum
Aluminum
Glass
Glass ceramics
Various optical substrates
Silicon wafer reclamation
Others
Our Recommended Flat Part Processing Sequence
Step 1: Grind to Flat (Blanchard Grinding) using 3M Superabrasive wheels
Step 2: Refine Finish with 3M Trizact Diamond 673FA/LA. Finishes as fine as sub 1 μ in Ra are possible. Use of 673FA/LA abrasives in Step 2 may reduce final polishing time up to 50 percent.
Step 3: Polish (optional). Final polish is typically performed using slurry on a felt pad. 3M™ Trizact™ Film 568XA has shown outstanding results on glass substrates.
3M Science. Applied to Smooth.
3M™ Trizact™ abrasives were developed specifically for finishing more difficult processing materials such as titanium, cobalt, stainless steel, as well as for all exotic alloys in the aerospace, aviation and medical industries, where precise geometries and critical tolerances mean everything. For the manufacture of medical implants to surgical tools to automotive transmission components, Trizact™ products are only one of the high performance solutions developed by 3M to produce top-quality results for your industrial applications.
Learn more about 3M™ Trizact™ Diamond Abrasives 673FA/LA
(PDF, 2.13 Mb)