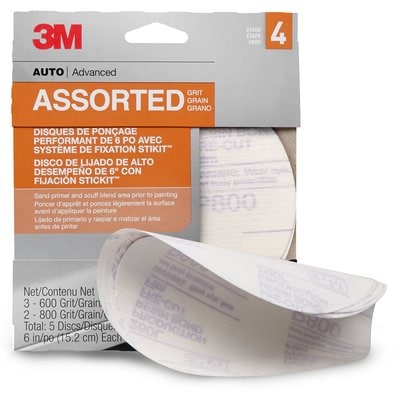 Contains (3) 600 grit and (2) 800 grit sanding discs
High Performance Surface Finishing
Advanced technology allows these high performance aluminum oxide finishing discs to achieve a fast cut-rate, last a long time and resist loading. These discs are designed to be used with a 6-inch 3M™ Stikit™ back-up pad on a random orbital sander to produce a consistent finish. Use a 600 grit disc for sanding primer and scuffing the blend area prior to painting. Then attach an 800 grit disc to scuff the blend area prior to painting. The 800 grit is also well-suited for removing runs, dust nibs and excess orange peel from clear coat finishes before paint finishing.
The 3M™ Performance Sanding Abrasive Disc is excellent for use during Stage 4 of our 3M™ Body Repair System.
About the 3M™ Body Repair System
Even a small repair can seem complex at first. So 3M's Body Repair System simplifies the entire automotive body repair process by dividing it into four stages:
Stage 1 — Prepare.
This stage includes pulling dents, removal of paint and rust and efficient, effective masking of the area.
Stage 2 — Fill
This stage involves patching holes with reinforced filler and smoothing and shaping filler before painting.
Stage 3 — Paint.
This stage includes painting the area and blending and smoothing primer and paint.
Stage 4 — Finish.
The final stage for showroom-grade results: removing small defects, sealing and polishing clear coats and other painted surfaces.
3M supplies premium products such as abrasives, tapes, body fillers and tools for every stage. This system helps you work easily, efficiently and successfully across the entire body repair process
Learn more about Automotive Aftermarket products.
(PDF, 68.63 Mb)
Used for sanding primer, scuffing the blend area and removing clear coat defects
Adhesive backed 6-inch 3M™ Stikit™ discs for use on a random orbital sander with 3M back-up pad
Contains (3) 600 grit and (2) 800 grit sanding discs
Aluminum oxide mineral is long-lasting and produces a fast cut
Use during Stage 4 of the 3M™ Body Repair System