Our 3M™ Conditioning Abrasive Discs combine aggressive cutting features with superior-conforming, non-woven fiber construction – great for auto body applications such as deburring, finishing and polishing. Two-inch (50mm) conditioning discs feature durable, fast-cutting aluminum oxide mineral abrasive, suitable for all metals, and Roloc™ backing for support and quick change-outs.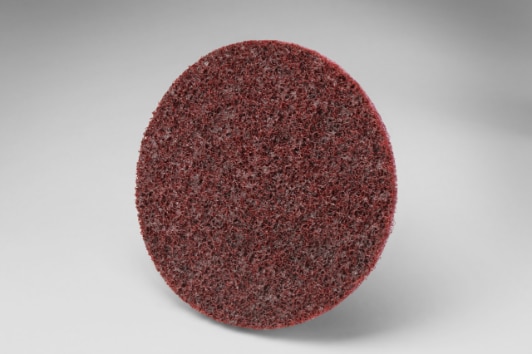 A Balance of Sharp and Smooth
For auto body applications including gasket removal, disc brake finishing and metal polishing, our 3M™ Conditioning Abrasive Discs provide the ideal balance of aggressive cutting and consistent finish. Fine grade medium grit is made from durable aluminum oxide that self-fractures during use, continually exposing fresh cutting surfaces to keep the disc sharper longer. Durable non-woven fibers act like tiny springs, providing superior conformity and helping preserve irregular or contoured surfaces. This combination also resists loading and reduces heat for longer disc life. The Roloc™ backing supports the disc for aggressive cutting, and works as part of our Roloc™ attachment system that allows for quick snap-on change-outs.
About Aluminum Oxide
Aluminum oxide mineral is a popular choice among industrial and auto body professionals because of its fast cut-rate and long life. This mineral makes a tough, durable abrasive that self-fractures to expose fresh cutting edges in use, whereas traditional abrasives such as garnet quickly wear down with use. Due to their fast cut-rate, hardness, strength, and low heat retention, they are widely used in grinding applications in addition to sanding and finishing applications. Aluminum oxide is suitable for a wide variety of materials in metalworking, including ferrous alloys.
Roloc™ Attachment System: Efficiency During Multi-Step Sanding
3M Roloc™ quick change discs have a plastic threaded button or screw designed to easily and quickly attach to a Roloc™ disc pad so that operators can conveniently change discs with a simple twist-off, twist-on motion. The Roloc™ system provides a secure attachment, and the variety of available 3M Roloc™ discs allows swapping from one application to the next in seconds for efficiency during multiple-step finishing processes.
Combining Art and Science
It's no accident that our 3M™ Conditioning Abrasive Discs provide a sharp cut abrasive and still deliver a consistent finish. We've employed technologies including our unique open web design, which uses non-woven fibers to keep abrasive particles flush even with irregular surfaces. So auto body professionals can get the most from their sanding skills during jobs that require artful abrasive tact — and from their auto body businesses.