3M™ Ceramic Abrasive Grain offers exceptional performance in medium to high pressure applications
Ceramic grain requires less effort
Stiff fiber backing provides the durability needed for heavy stock removal and high-pressure weld leveling
Grinding aid reduces grinding temperatures for processes involving heat-sensitive alloys such as stainless steel, nickel alloys, and titanium
May be used with right angle air tools
3M™ Roloc™ Fibre Disc 985C offers an exceptionally fast cut and extreme durability for high-pressure applications on all metals by incorporating 3M™ Ceramic Abrasive Grain and a grinding aid on a stiff fiber backing. Designed for long life and superior performance in heavy-duty applications, ceramic fibre discs minimize edge wear, enhance productivity, and reduce material consumption.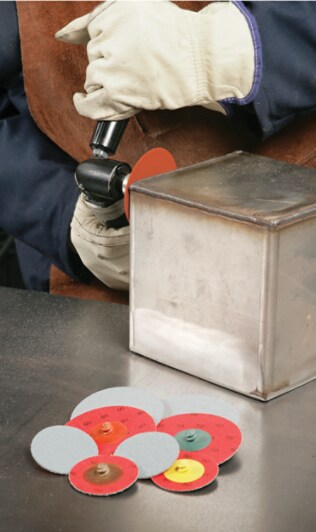 Resin-bonded to withstand high heat and pressure
Designed for Heavy-Duty Metalworking
Our 3M™ Roloc™ Fibre Disc 985C incorporates a grinding aid to keep the workpiece cooler, protecting heat-sensitive alloys from heat damage and reducing re-work. Choose this disc for high-pressure stock removal, weld leveling, and beveling on all metals, especially stainless steel. The disc is resin-bonded to withstand high heat and pressure in demanding applications.
The Benefits of 3M™ Ceramic Abrasive Grain
3M™ Ceramic Abrasive Grain exceeds conventional abrasives in durability, disc life, and cut-rate, offering greater throughput in less time. Additionally, less effort is required to achieve maximum performance and extending abrasive life. 3M™ Ceramic Abrasive Grain is a 3M proprietary ceramic mineral formed using a process to enhance toughness and hardness of the grain. It is chemically engineered with a unique "stay sharp" crystalline structure, which continually self-sharpens cutting edges on the surface of the disc, ensuring extended high performance in high pressure production environments, even on the toughest materials. These discs enable operators to do more work in less time, for significant gains in productivity.
Easy Power Tool Attachment
Fibre Disc 985C is designed to be used with
portable hand tools
, so operators may facilitate direct contact between the abrasive and the surface area at the exact location where it's required. The Roloc™ attachment makes changeouts between discs even easier. The disc locks securely to a Roloc™ backup pad (sold separately) with 1/2 turn on and 1/2 turn off of the threaded plastic button. The Roloc™ assembly is designed to fit a variety of tools with or without collets or chucks and is ideal for use on right angle air tools.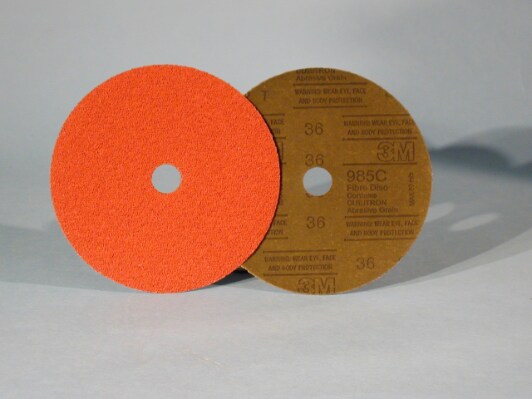 Also available in PSA and center attachments
Tips for Optimal Use
Fiber discs are heavy-duty discs ideal for weld removal, grinding, and blending large and small areas of metal surfaces. They feature a tough, stiff backing made from vulcanized fiber that resist wear and can handle tough grinding applications. For optimal performance, the disc should be used with a Roloc™ back up pad (sold separately) of the appropriate density for the application—a lighter density pad for fine grade grinding applications, and a harder density pad plate for coarse grade grinding applications. Using the correct backup pad helps you make the most of your fibre disc.
Altogether, fibre discs are tough, durable abrasives designed to tackle your heavy-duty metalworking projects. With an easy power tool attachment, it takes the time and hassle out of getting the job done. With swift disc changeouts, you can focus on the task at hand.
For more information on 3M™ Industrial Products for Metalworking, please refer to our guide:
Engineered Metalworking Solutions
(PDF, 13 Mb)