3M™ Sanding Abrasive Discs make sanding easy and convenient; just press the disc on the pad and sand. The disc peels off easily when the job is done, making disc changes fast and convenient. Long-lasting, tough abrasive minerals resist loading for longer disc life and better performance. Premium discs work on a wide variety of surfaces such as paint, primer, fiberglass, metal and SMC.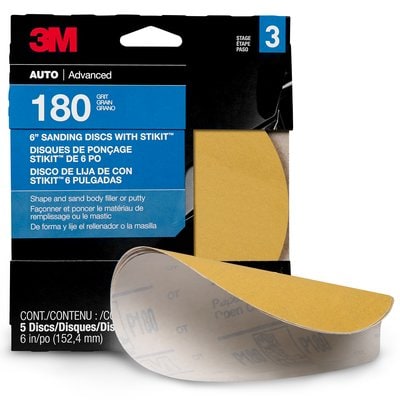 3M™ Stikit™ attachment system offers peel and place convenience
High Performance with Aluminum Oxide Abrasives
When your project requires uncompromising quality, 3M™ Sanding Abrasive Discs deliver high performance results. These discs come with aluminum oxide, a tough and versatile mineral abrasive. Aluminum oxide is popular among industrial professionals because of its cut-rate and long life. This mineral is a tough, durable abrasive that self-fractures to expose fresh cutting edges in use, whereas traditional abrasives quickly wear down. Due to its high cut-rate, hardness, strength and low heat retention, aluminum oxide is highly effective for sanding and finishing applications.
Stikit™ Attachment Scores High on Convenience
Stikit™ discs
are designed to handle a wide range of sanding and finishing needs. These high-quality, coated abrasive products come ready to use with a pressure sensitive adhesive coating on the backside so they conveniently press on to the backup pad and remove cleanly, leaving an uncontaminated surface for the next disc. Changing discs is fast and easy with the Stikit™ system.
A Disc for Many Applications
3M™ Sanding Abrasive Discs come in a wide range of grits for many stages of the automotive refinishing process, everything from aggressive removal of material to fine refinement of scratches. Our sanding discs cut through a variety of surfaces, including paint, primer, fiberglass, metal and SMC. Use these discs with a
3M backup pad PN 03146 (6") or 03142 (5")
, or on a dual action orbital sander.
Compare More Automotive Aftermarket Abrasives
(PDF, 68.63 Mb)