Best quick change disc for cool grinding on heat-sensitive metals
Extremely durable ceramic grain can stand up to heavy-duty wear
Ideal for prolonged stock removal due to durable fiber backing
Swiftly removes heavy flash and parting lines on castings
Features a grinding aid that reduces heat, glazing, loading and stripping
Choose from TR and TS quick change attachment styles to address smaller surface areas
Our Standard Abrasives™ Quick Change Ceramic Resin Fiber Disc runs cool during rapid stock removal on heat-sensitive metals: stainless steel, aluminum, high nickel alloys and titanium. The quick change attachment allows secure use of a smaller disc at high speeds. For these reasons, it is a great choice for grinding, deburring and finishing small areas – especially where heat is a concern.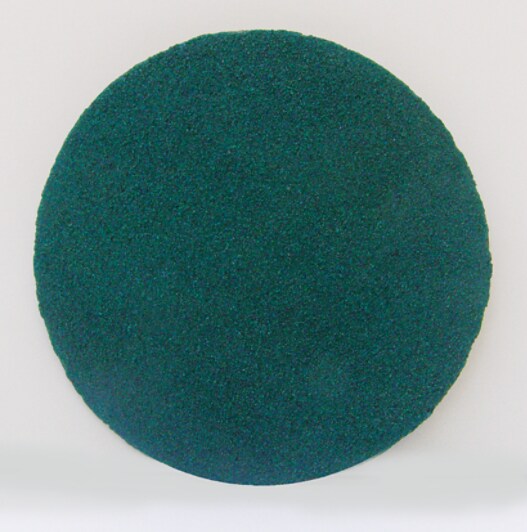 Best disc for cool, rapid stock removal on all heat-sensitive metals, including stainless steel, aluminum, high nickel alloys and titanium
A Remedy for Unwanted Burrs and Flash
Standard Abrasives™ Quick Change Ceramic Resin Fiber Disc is made with ceramic grain, one of the toughest synthetic minerals. To create ceramic mineral, alumina and other compounds are heated and melted almost to the point of liquefaction. When the grain cools and hardens, it becomes extremely durable, tough and wear resistant. Altogether, these grain characteristics make ceramic mineral a great match for precision grinding, deburring and finishing. It is cool cutting and reduces the risk for loading and part discoloration that results from heat. The Standard Abrasives™ Quick Change Ceramic Resin Fiber Disc is a remedy for stubborn burr and flash removal, because it cuts swiftly and aggressively while staying fairly cool. Similarly, it's great for weld removal on fabricated stainless steel and parting line removal on castings.
Secure Quick Change Attachment for High Speeds
Quick change discs allow tool-free swap outs, maintain secure attachment at high speeds, and save operators time when switching discs between grades or applications. This product is compatible with either TR or TS quick change sanding systems. Choose the disc compatible with your TR or TS holder pad. TR discs have a nylon threaded hub that easily mounts to a TR or 3M™ Roloc type holder pad with a turn of the wrist, and the TS system has a metal hub that attaches to its holder pad with a simple twist.
Beat the Heat
The Standard Abrasives™ Quick Change Ceramic Resin Fiber Disc is engineered by securely anchoring ceramic mineral to a fiber backing with an extra-long lasting resin bond. Considered a heavy-weight backing, fiber is extremely tough; it is hardened and condensed before ceramic mineral is adhered to it. A strong fiber backing combined with a tough resin bond enhances overall abrasive durability, which reinforces its suitability for heavy-duty applications like grinding and deburring.
The Ceramic Resin Fiber Disc also has a grinding aid — an extra heat-resistant coating — that dissolves as the abrasive grinds and blends. When it breaks down, the grinding aid reduces heat, minimizing the risk for heat-induced glazes or blemishes that might smear the substrate. Similarly, the grinding aid minimizes the possibility of stripping the surface or removing the original luster by way of heat.
Tips for Optimal Use
Often, users who work with heat-sensitive metals seek cool-running abrasives. Steel, especially, has a tendency to emit heat during grinding. Running the disc at recommended RPMs will help to eliminate the excessive heat created from friction. When faced with the challenge of stock removal, users need an abrasive that can endure heavy-duty grinding until the flash is gone. Grinding is one of the best industrial applications for the Standard Abrasives™ Quick Change Ceramic Resin Fiber Disc, because the abrasive contains just the right ingredients — tough ceramic mineral, strong fiber backing, durable resin bond — to finish the job.