3M™ Roloc™ Fibre Disc 988C s a quick-change disc that combines 3M™ Ceramic Abrasive Grain with a stiff fiber backing to provide an exceptionally fast cut and extreme durability for high-pressure carbon and mild steel applications.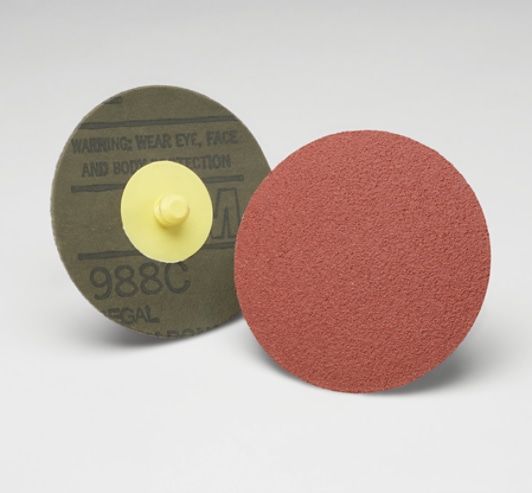 Enhance Productivity, Reduce Material Consumption
Designed for both long life and superior performance in aggressive, heavy-duty applications, our 3M™ Roloc™ Fibre Disc 988C enhances productivity and reduces material consumption. The disc is resin-bonded to withstand high heat and pressure in demanding applications. Choose the 988C Roloc fiber disc for high-pressure stock removal, small to medium weld leveling, and blending. It has a threaded button adhered to the backing to conveniently attach to a Roloc disc pad (sold separately) for quick disc changes between applications.
3M™ Science, Applied to 3M™ Ceramic Abrasive Grain
Our 3M™ Ceramic Abrasive Grain exceeds conventional abrasives in durability, disc life, and cut-rate, offering greater throughput in less time. Additionally, less pressure is required to achieve maximum cut-rate, in turn reducing operator fatigue and extending tool life. 3M™ Ceramic Abrasive Grain is a proprietary ceramic mineral formed using a process to enhance toughness and hardness of the grain. It is chemically engineered with a unique "stay sharp" crystalline structure, which continually self-sharpens cutting edges on the surface of the disc, ensuring extended high performance in high pressure production environments. These discs enable operators to do more work in less time, for significant gains in productivity.
Roloc™ System for Easy Tool Attachment
Our 3M™ Roloc™ quick change discs have a plastic threaded button or screw designed to easily and quickly attach to a Roloc disc pad (sold separately) so that operators can conveniently change discs with a simple twist-off, twist-on motion. The Roloc system provides a secure attachment even for heavy-duty applications, and the variety of available 3M Roloc discs allows swapping from one application to the next in seconds. Each TR attachment button is also color-coded to identify its grade, making it easy to grab the grade required for different applications. Roloc fiber discs are heavy-duty discs ideal for small to medium weld removal, grinding, and blending. They feature a tough, stiff backing made from hardened fibers that resist wear and can handle tough grinding applications.